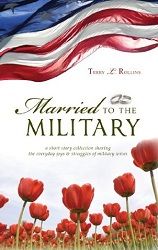 Title:
Married To The Military
Author:
Terry L. Rollins
Published:
April 14/09 by Tate Publishing
Length:
216pgs
Format:
paperback
Genre:
short story anthology
Shelf:
review
Rating: ★★★★
Back Cover Blurb:
You've heard a lot about our brave men in uniform, but have you ever wondered about their wives?
Married to the Military, Terry L. Rollins' beautifully written, powerful collection, takes you behind the scenes in the lives of ten extraordinary yet completely different military wives. Readers will laugh and cry with these women as they share their experiences navigating the ever changing waters of life in the military.
Meet these wives as they deal with everything from parties, pregnancy, multiple moves, and retirement, to death, depression, and victory over demons from the past.
Each of these women brings to the reader their own sense of the joys and sacrifices of being a military wife in today's world. Feel the pride, the pain, and the passion these women face as they allow readers everywhere to experience life as it is when Married to the Military.
My Review:
This is one of those rare novels that really puts life into perspective for you. Rollins takes her readers into the lives of 10 fantastic yet wildly different women married to men in the military. Each new story and leading character captured my heart and attention in a different way. Her straightforward yet personal writing style allowed me to get up close and personal with these ladies in the short while that I got to know them. I found the individual tales to be quite captivating and thought provoking.
She gives readers lots of insight into the lives of the stay at home half of military couples, and the various ways that they deal with their situations. I loved the feeling that I was getting a true glimpse into the real lives of these individuals. I laughed and cried alongside them. The harsh realities of their lives combined with the unforgettable joys that they found in their relationships. The glimpses into their lives gives you a deeper understanding as to what they face and just how rewarding it can be.
This was a very genuine novel that was a pleasure to read. Rollins definitely has a way with words that allows you to step into this world and experience the lives of her leading ladies.
And now, enter to win in this fantastic giveaway with Terry L. Rollins & Married to the Military.
Two print copies of Married to the Military are up for grabs.
The 1st rafflecopter is for residents of Canada & the United States only, where applicable by law.
The second is open internationally, where applicable by law.
Entries close at 11:59pm Feb 2015.
Winners will be drawn Feb 21/15.
Winners will have 72h to claim their prize or another winner will be drawn.