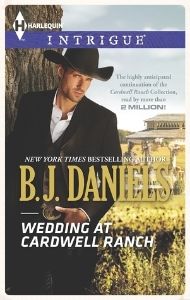 Title:
Wedding at Cardwell Ranch
Series:
Cardwell Cousins #2
Author:
B.J. Daniels
Published:
June 17/14 by Harlequin
Length:
224pgs
Format:
ecopy
Genre:
romantic suspense
Shelf:
netgalley
Rating: ★★★★★
Synopsis from Goodreads:
The highly anticipated continuation of the Cardwell Ranch Collection, read by more than 2 MILLION!
Jackson Cardwell won't stop until she is safe.
In Montana for his brother's nuptials, Jackson Cardwell isn't looking to be anybody's hero. But the Texas single father knows a beautiful lady in distress when he meets her. Someone's hell-bent on making Allie Taylor think she's losing her mind. Jackson's determined to unmask the perp...and guard the widowed wedding planner and her little girl with his life.
Allie has no idea who wants to harm her and take her daughter away. The truth is even more shocking. For Allie's past has stalked her to Cardwell Ranch. And not even the sexy cowboy who awakens irresistible passion may be able to save her from a killer with a chilling agenda.
My Review:
What a trip! My heart was literally in my throat for parts of this novel. I couldn't even fathom living through this, but Daniels drew me right into the mix. I couldn't put it down. Even after I finished the novel, I couldn't stop thinking about it. She engaged me mentally & emotionally. This story was so vividly real that I could picture each and every moment of it. Daniels' story is completely unique, yet still contains the elements that we've come to love from her work. Suspense, intrigue, and romance abound throughout. I found myself dying to know what would happen next, needing to know how the story ended.
As soon as I saw that Jackson was the main character in this novel I knew that it would not only be unforgettable, but completely unique. The characters in this tale really brought it to life. And their individual plights come together in a shocking light that brings the entire story together. Their broken marriages give them a sense of vulnerability. Their closeness with their respective families brought the entire story together. They both bring the main characters together and set them apart. I found myself drawn to the entire cast.
As a whole this was a fantastic novel. It could easily be read as a standalone, as part of the Cardwell Cousins series, or as part of the extended Cardwell series. I wouldn't hesitate to recommend it to any fans of (or even those with a lukewarm interest in) romantic suspense.