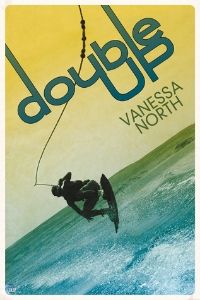 Title: Double Up
Author: Vanessa North
Published: Aug 25/14 by Riptide Publishing
Length: 139pgs
Format:

ecopy


Genre: m/m contemporary romance
Shelf: review
Rating:
★★★★★
Synopsis from Goodreads:
Knowing he's loved can make any man fly.
Fifteen years ago, Ben Warren was a wakeboarding champion: king of big air, ballsy tricks, and boned grabs. Until a career-ending injury left him broken in ways he still has no hope of fixing. Now he takes his thrills where he can get them, and tries not to let life hurt too much.
Then Davis Fox arrives in Ben's sporting goods store with a plan to get in touch with his estranged brother by competing in the annual wakeboarding double-up contest. The catch? He's never ridden before. It's crazy, but Ben's a sucker for the guy's sob story—and for his dimples, too—so he agrees to coach Davis.
Davis is everything Ben isn't: successful, confident, and in love with life. And he wants Ben to love life—and him—too. But before Ben can embrace a future with Davis, he needs to remember how to hope.
My Review:
I absolutely love the way that this novel is written. North's voice, tone, and style draw you completely in to the story. For a non-boarder like myself North approaches the topic perfectly. She gives me enough information that I can understand what's going on, without it overshadowing the story at hand. It's an exciting story that tackles life at its best and families at its worst.
The characters in this novel are perfectly priceless. Everyone is true to who they are, yet also understand how they are perceived by others. Getting to know them in this intimate and adventurous manner allows you to become part of their lives, and them part of yours. I appreciate how real they are, and how they're dealing with real life issues, even if their lives seem perfect on the surface.
Overall, this was a brilliant novel that I couldn't put down for a second. I'll be rereading this (multiple times) in the future & would recommend it to others. This may have been my introduction to this author's work, but I'll definitely be looking for more in the future.