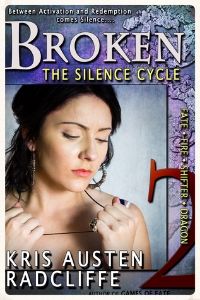 Title: Broken
Series: Fate~Fire~Shifter~Dragon #3.2/Silence Cycle #2
Author: Kris Austen Radcliffe
Published: August 14/14 by Six Talon Sign Fantasy & Futuristic Romance
Length: 88pgs
Format:

ARC

ecopy


Genre: urban fantasy
Shelf: review
Rating:
★★★★★
Synopsis from Goodreads:
After
Daisy Reynolds
's friend and protector vanishes into the desert, she realizes one option remains: Leave San Diego for Branson, Missouri, and ask for help at the bar favored by the dragons.
The Shifters at The Land of Milk and Honey hold the key to finding her missing father, but they also have the power to compel her to spill her secrets. When threatened with an enthralling, Daisy runs.
But bad people take advantage of the threatened and the vulnerable—and escaping a very bad person soon becomes Daisy's only option for survival…
Warning: While not graphic, the situations depicted in Broken are at times difficult and brutal, and for adult readers only.
Watch for
Silent, Episode Three of the Silence Cycle
, available October, 2014.
My Review:
Radcliffe is a very visually descriptive author. The words that she pens become a vivid scene in your mind's eye. Her writing is simultaneously eloquent and snarky. Radcliffe throws classic style out the window, telling her wildly creative story in her own way and keeping her readers completely captivated throughout. The way that she combines history with the present and a whole lot of her own imagination creates a riveting tale that you won't be able to put down.
I love the sense of Daisy's character that you get in this novella. By having Daisy tell her own story you not only get to see who she is today, but how she got to where she is. Getting up close and personal with Gavin was similarly revealing. I found myself really feeling a connection to these two. You also get an intriguing look at the dragons, getting to know them outside of the Activation series. The sneek peek at the Seraphim was also intriguingly cliffhanger-esque.
If I thought I was addicted to the world of Fate~Fire~Shifter~Dragon before reading this novella I was woefully wrong. Broken took it to an entirely new level. I cannot wait to see what happens next!