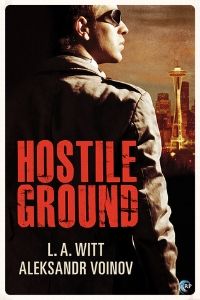 Title: Hostile Ground
Author: L.A. Witt & Aleksandr Voinov
Published: May 12/14 by Riptide Publishing
Length: 300pgs
Format:

ecopy


Genre: m/m romantic suspense
Shelf: Netgalley
Rating:
★★★★★
Synopsis from Goodreads:
After the deaths of three undercover cops investigating a drug ring in a seedy strip club in Seattle, Detective Mahir Hussain has been sent to finish the job. He joins the club's security team in the hopes of finding enough evidence to bust the operation before the men in charge find a reason to put him in a shallow grave. To protect the strippers, only gay men can work the club. Ridley, the cold and intimidating head of security, knows exactly how to test potential new hires-including Mahir. From the minute they meet, Mahir and Ridley engage in a dangerous dance of sex and mind games. Mahir needs to find his evidence before Ridley figures out he's a cop-and before they both grow too close to betray one another.
As the game goes on, Mahir burrows deeper into the operation, where he learns there's much more happening than meets the eye . . . and why every cop who made it this far has been silenced with a bullet.
My Review:
The descriptions and tone of this novel are so vivid that you not only picture it all, but feel like you're right there. The combination of police undercover work with familial obligations creates a breathtaking and solidly captivating novel that you won't be able to put down. Religion, duty, and self-worth all make an appearance throughout. The authors meld suspense with mayhem while showing how romance can crop up at any time. They tell a tale that I found myself fully invested in. I always needed to know what would happen next and how it would end, but I never actually wanted the tale to end.
The multifaceted character development throughout allows readers to really get to know the characters. These authors make sure you are introduced to them both inside and outside of their work place. Seeing the fine line that the main characters walk, morally, religiously, and ethically, draws you closer to them. I found myself rooting for them, and at the same time, wanting to get to know them better. The antagonists in this novel really highlight both the plight of the main characters as well as commenting on the current state of society, the tings many of us try to ignore.
I'm normally not a fan of multi-author works, but these two work together so seamlessly that you can't help but get caught up in the breathlessness of it all. This novel is definitely a must read for those who enjoy the genre.