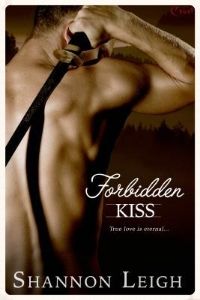 Title: Forbidden Kiss
Author: Shannon Leigh
Published: July 28/14 by Entangled: Covet
Length: 243pgs
Format:

ecopy


Genre: contemporary romantic suspense
Shelf: netgalley
Rating:
★★★★★
Synopsis from Goodreads:
Jule Casale is the perfect daughter. Obedient. Trustworthy. Loyal. With her high profile Italian family, her public image must be impeccable. And now to gain the respect and position she's desired in the academic world, she hopes to discover the unknown artist behind a masterpiece of Renaissance art.
Rom Montgomery seeks the unobtainable: forgiveness. Those who could grant him relief are dead. Instead, he wanders across continents and through time searching for salvation and the means to right an ancient wrong. But when Jule comes knocking on his door, it's the closest he's ever come to finally finding redemption. The closer Rom draws to correcting his past mistakes, the more his secrets threaten to destroy the woman who might hold the key to his future.
My Review:
Leigh's writing style held me completely captivated throughout. It was completely unique yet down to earth, and so well-crafted that I couldn't turn away. The history, of weaponry, lives, and places, captured my imagination and kept me riveted. I appreciated the realism and research behind this work. The mix of old world and new adds an extra element to the tale that allows the reader to feel a connection to the work.
The complex characters that Leigh presents to her readers are breathtaking. I was completely enchanted by them and felt like I really knew them. Through her characters Leigh makes the notion of reincarnation astoundingly palatable and easy to believe. There is a sense of wonder accompanying it throughout.
As a whole this was a wonderfully unique read that I would recommend to all lovers of romance, and of Shakespeare.