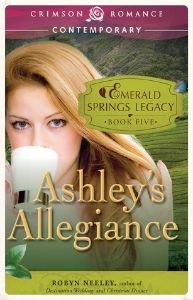 Title:
Ashley's Allegiance
Series:
Emerald Springs Legacy /5
Author:
Robyn Neeley
Published:
June 2/14 by Crimson Romance
Length:
194pgs
Format:
ecopy
Genre:
contemporary romance
Shelf:
review
Rating:
★★★★★
Synopsis from Goodreads:
Meet Ashley, the fifth of five unforgettable characters in the Emerald Springs Legacy.
Life in the small town of Emerald Springs, Washington, is anything but slow and peaceful. An old feud between former business partners Whitman and Sanders keeps competition on a high burner, fueling resentment, renewing rivalries … and love. Now someone is trying to bring down Emerald Tea Farm, and it's up to both families to protect their future while still wrangling over the past.
The last six months have been nothing short of exciting for the Whitmans and Sanders. Adam, Chad and Daniel Whitman have all begun to carve out their niche in the family dynasty. Now it's Ashley Whitman's turn. She's ready to step up with her marketing ideas, talent, and drive to prove she has just as much to contribute to the family tea legacy as her successful cousins.
Deputy sheriff Jacob Sanders is closing in on who is responsible for the suspicious activities plaguing Emerald Springs Farm and Split Acres. When a questionable encounter outside the local bar forces him to tag along to San Diego and play bodyguard to Ashley Whitman, any other man would jump at the chance to be in close quarters with the beautiful, blonde Whitman. Too bad they hate each other. Forced to spend time together, they discover their mutual dislike might be something else entirely. But can a Whitman and Sanders really be happy together?
My Review:
This novel is priceless! Neeley had me in fits of laughter from the first chapter. Her tone is light & approachable but inviting and melds perfectly with the story at hands, as well as the ones that precede it. She also takes the suspense in the series to a whole new level. I was on the edge of my seat throughout, trying to guess what would happen next. She also weaves a remarkable story of love and loss together throughout this tale. By weaving these relationships alongside up and coming business practices she creates a completely unique tale that you cannot help but live alongside the characters.
Neeley takes the characters that we've come to know previously in the series and takes them to a whole new level. The main characters come to life like no others. I love how she develops them individually, and they continue to be individuals once they're together. Even though they are a couple, Neeley never portrays them as 'that couple' who are no longer individuals. It adds an extra element of approachability & realism to the novel. The supporting cast rounds out this novel very nicely. Everyone is so real, and this family is one that you can definitely come home to.
Overall? I'm so to see this series end. I have fallen so in love with Emerald Springs & the 5 authors that brought it to us that I don't want to let go. Neeley definitely gave us the perfect ending to this series. This is a novel well worth reading.