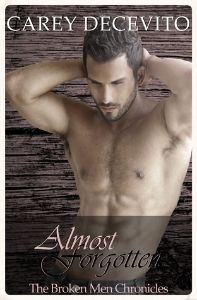 Series: Broken Men's Club #2
Author: Carey Decevito
Published: Feb 4/14
Length: 328pgs
Format: ecopy
Genre: contemporary romance
Jake had it all: women, money, great looks. For all intents and purposes, he was happy.
A series of women and an unexpected appearance by a ghost from his past cause him to re-evaluate his life.
She'd broken his heart, all those years ago, and Jake chose to live the life of a bachelor there on out. Along with his fast-paced career, he ran a fast-paced social life. It's what worked for him. Or he'd convinced himself it did.
The loneliness his large home presented the minute the housekeeper went home and the women that warmed his bed deserted him, left him wanting. Could he have what so many of his friends already did: the woman, the family, the house with the white picket fence? Maybe. But just because he desired these things, things he'd sworn off ages ago, doesn't mean that they were destined for him.
Adult-content rating:
This book contains content considered unsuitable for young readers 17 and under, and which may be offensive to some readers of all ages.
My Review:
This is definitely a different take on a contemporary romance. Decevito takes off from the get-go and keeps you captivated with her mesmerizing writing and enchanting storyline. Not only did the storyline shock me, but Decevito's inviting writing drew me in and invited me to join this world. I thoroughly appreciated the hard knocks that the characters lived through, and came out on the other side all the stronger for. Decevito doesn't simply rely on her characters and their love to bring her story to life (even though this would do it all on its own). She is a very visually descriptive author who mixes romance with suspense and a bit of intrigue. Life takes precedence and shines through.
I thoroughly appreciated the fact that most of the major players in this story accepted what they couldn't change, and fought to change what they couldn't accept. It drew them together while also making them stand out amongst a veritable sea of romance characters. You get right into the main character's head with this one. It was such a trip to be living life from his perspective. You can easily love these characters, even though their flaws are apparent to anyone.
Overall, this was an absolutely brilliant story. It could easily be read as a standalone, but also fits in nicely with the series as a whole. I wouldn't hesitate to recommend this to romance enthusiasts anywhere.