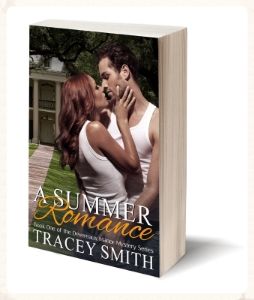 Title:
A Summer Romance
Series: Devereaux Manner Mystery #1
Author: Tracey Smith
Published:
April 3rd 2014 by Amazon Digital Services
Length: 170pgs
Format: ecopy
Maggie had her entire life planned out since the age of twelve, looks like the joke was on her. As all of her carefully laid plans begin to fall apart she jumps at the opportunity to get away and spend a carefree summer down south.
When she arrives at Devereux Manor it all seems too good to be true. The home is beautiful, the town is inviting, and the sexy gardener promises to make this a summer she won't soon forget.
However the more she learns about the elusive Ms. Devereaux she begins to realize that the conveniently placed ad in front of her dorm room may not have been the happy coincidence that it once seemed. Maggie isn't the only one who Ms. Devereaux has lured to the plantation, and Ms. Devereaux isn't the only one with secrets to hide.
Adult-content rating:
This book contains content considered unsuitable for young readers 17 and under, and which may be offensive to some readers of all ages.
My Review:
Smith is one of those authors who can get the perfect balance of everything in her pages. She combines southern charm with big city curtness, sweet with sexy, suspense with romance, reality with imagination. Everything comes together in a story that you won't be able to put down. Smith writes suspense and anxiety with such realism that you can't help but feel it seeping from the pages of the book. Combine this with her down to earth yet extremely picturesque descriptions I feel like I'd stepped into the South myself.
The characters definitely make this novel. Don't get me wrong, the storyline was phenomenal but the people really make you love them. Right from the first page the author makes it so easy to understand the main character; her thoughts, her feelings, her actions. As a reader you're able to form a connection with her. I admire the fact that she's willing to go the extra mile to change the things that she isn't happy with. The male lead is a bit of an enigma that you can't help but fall for. He is genuine yet mysterious all at the same time. He's also an alpha male without it being outright apparent & in your face. Add to this the fantastic supporting cast that make you feel just as welcome as (at least one of) the main characters did and you will feel like this is your new home.
Overall this was a fantastic read that I couldn't put down for a second. If I had to come up with something that I didn't enjoy about the novel it would be the fact that it ended and now I have to wait for the next instalment. I'm dying to know how this mystery ends. I'd definitely recommend this to anyone who enjoys romantic suspense but will warn you that there's a bit of a cliffhanger.
About the author:
I grew up in Southern California, but as a teenager moved with my family to a small town in Arkansas. It was there that I met my husband, who had also recently moved to the state. Fate brought us both to that same small town and into each other's lives and it is where we remain today raising our two children and living out our happily ever after. As you can probably tell I'm a hopeless romantic.
I began my writing career in 2009 with the publication of my first novel Love's Fate, which quickly grew into a romantic series. Since that first day that I sat down to write I haven't been able to stop. Writing is my passion and has become a necessary part of my life. Sometimes there are stories that just beg to be told.
And don't forget to enter the tour wide giveaway before you go!