Today I'd like to welcome Mary Hart Perry and her novel Seducing the Princess to Pure Jonel.
Published: March 5th 2013 by Diversion Books
Genre: Historical Romantic Suspense
Shelf: Review Copy
Blurb: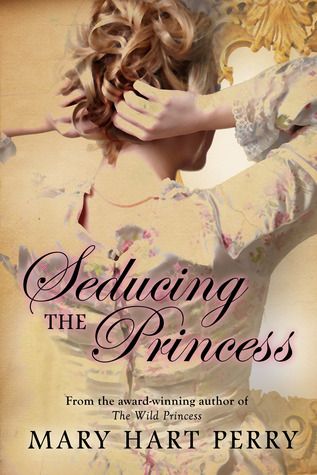 Mary Hart Perry's acclaimed series of romantic Victorian thrillers continues with Seducing the Princess, inspired by the life of Queen Victoria's youngest daughter Beatrice. Painfully shy and lonely, convinced she is unattractive and unloved, the dutiful Princess Beatrice finally accepts that she will never marry and vows to devote herself to the queen in Victoria's waning years. In fact, her mother has secretly discouraged suitors for Beatrice's hand. Just when Beatrice has all but given up on love and happiness, she meets Henry Battenberg, a dashing nobleman from the Continent who matches wits with the aging Victoria and risks his life and liberty to woo Bea.
But Henry isn't the only man interested in being welcomed into Beatrice's bed. The timid princess has become the target of a cruel plot hatched by her nephew, the madman destined to become the last Emperor of Germany. Wilhelm II sends a ruthless agent, a charming Scot, to seduce the naive princess and spy on the queen. How can the sheltered princess hope to fend off a man capable of murder, and perhaps worse, to get what he wants? But Beatrice is not without her own allies--her older sister Louise and Louise's American soldier-of-fortune and lover, Stephen Byrne. Will Beatrice discover which of the two men pursuing her she can trust, before it's too late? Drama, romance and peril chase the royal family from Buckingham Palace to a storm besieged castle on the Isle of Wight.
Excerpt:
Gregory watched the queen's daughter weave down the alley of the dim barn and out into the sunshine. He laughed to himself. Girl didn't know it but she was his.
He had seen it in her eyes. They had dilated nearly all-black at his touch. She'd trembled and reacted to him with unmistakable sensual awareness. He'd waited patiently for such signs these months as they'd ridden together, as he'd gently urged her to open up to him.
At first he'd worried that she might cling to her hope of Battenberg coming for her, but the missing letters did the trick. She no longer seemed to believe the Prussian loved her. He just hoped his agent had destroyed their correspondence as they'd discussed. Without the princess's letters ever leaving London, and Battenberg's missives intercepted before they could reach Beatrice, communication had been completely severed between the two. Moreover, his spies assured him that, whatever had transpired between the pair in Darmstadt, or later in London, their relationship hadn't yet progressed to the bedchamber. Kisses and hand holding maybe, but Beatrice was still a virgin.
Which meant she knew almost nothing about sex.
Which meant he could use her naiveté to his advantage.
And now? He'd wait and let today's little encounter sink in. Let Beatrice think about touching hands, about how much she missed Henry's kisses and how nice it would be to be kissed again—by someone conveniently close by, someone she'd learned to feel safe with, and who knew how to please a woman.
In the meantime, there was this bloody job in the mews to get rid of. He needed to move up in the world, and fast, if he was to woo a princess, the task set for him by Wilhelm. That's where he needed the help of the queen.
My Review:
Perry captivates this era perfectly. She didn't miss a single piece of information. This goes right down to the fact that the American character was wearing a Stetson about 20 years after the company was founded. Relationships and individuals were also developed based on the era in which the novel took place. It really added to the realism of the novel.
I commend Perry on the fact that she managed to write a thrilling romance novel without any R rated scenes. It was the storyline, not the lack of clothing that had me enthralled. It was a very nice change of pace and it kept me utterly captivated throughout. On top of that, this novel was very well written and the storyline was intricately put together. The descriptions and scenes that Perry creates subtly highlight certain elements that will become important further into the story. She doesn't simply write her story, but paints a canvas for her characters to walk and dance across.
The characters in this novel are fully developed. Their development is never one sided. It is physical, historical, emotional, and personal. They are so developed that you can feel what they are feeling and can understand where their actions are coming from, even if you wouldn't have followed the same route yourself. You find your heart going out to the main characters and hoping against hope that all will be well.
As a whole, this was a brilliant read. It is one of those novels that you finish reading and then somehow realize that it's gotten dark out and that you should have gone to bed hours ago.
Author Bio:
Kathryn Johnson lives in the Washington, DC area with her husband and two feline writing partners, Tempest and Miranda. The author of over 40 novels, she's written under her own name and a variety of pen names, including Mary Hart Perry, Kathryn Jensen, KM Kimball and Nicole Davidson. She also teaches fiction-writing workshops for the renowned Writer's Center in Bethesda, Maryland. And, in 2008, she founded Write by You (
www.WriteByYou.com
), to coach other writers interested in reaching publication. She has been nominated for the prestigious Agatha Christy Award, and won the Heart of Excellence and Bookseller's Best Awards (sponsored by the Romance Writers of America) in 2011.
Her works in progress include a series of Victorian thrillers inspired by the lives of Queen Victoria's five daughters. The first novel, The Wild Princess, focuses on Princess Louise, who desperately wanted an education as a professional artist, at a time when women were not admitted into art schools. Her personal life becomes complicated when she uncovers a secret about her husband and must help protect her mother from an assassination attempt. The second book of the series,Seducing the Princess, launches April 2, 2013, and features Victoria's youngest daughter Beatrice. Painfully shy and lonely, the dutiful Princess has promised never to marry and to devote herself to the queen in Victoria's waning years. Just when she has all but given up on love and happiness, she meets Henry Battenberg, a dashing nobleman from the Continent who risks his life and liberty to woo Bea and save both his beloved and the queen from a cruel plot. A third novel, to be published later in 2013, will star Crown Princess Vicky.
Facebook:
Please "like" Mary Hart Perry (Here's the
bit.ly
short link):
on.fb.me/Kj7hzU
, Also find me on FB:
http://facebook.com/Kathryn.K.Johnson.3
Twitter:
@Mary_Hart_Perry and @KathrynKJohnson
Goodreads:
Come find me as Mary Hart Perry
Linkedin:
http://www.linkedin.com/pub/kathryn-johnson/21/8b3/350
Website:
www.WriteByYou.com
Contact me:
Kathryn@writebyyou.com
or
Mary@MaryHartPerry.com