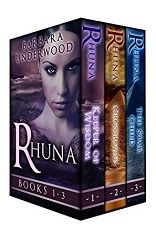 Title:
Rhuna Box Set
Series:
Rhuna #1-3
Author:
Barbara Underwood
Publication Date:
May 14th 2016
Length:
946pgs
Genre:
YA Historical Fantasy
Shelf:
review
My Rating: ★★★★★
Book Links:
Goodreads – Amazon(US) – Amazon(CA)
Back Cover Blurb:
Have you ever wondered who built the pyramids or the eerie statues on Easter Island - and how they were made?

Maybe they were made with superhuman powers - or magic - by a highly advanced civilization like Atlantis!

And maybe there was a young girl named Rhuna who finds out that she has these powers, and that she is the only one with special magic to defeat the Dark Master who has brought evil and chaos to her idyllic utopian civilization.

This box set features the first three books in the series: Rhuna, Keeper of Wisdom, Rhuna: Crossroads and Rhuna, The Star Child.

The first book describes Rhuna's adolescence as she learns about her Atlan heritage and the special powers which help capture and defeat the Dark Master.

Book 2: Rhuna: Crossroads

This book is set in exotic Ancient Egypt and features unforgettable characters and a riveting adventure.

"full of twists, many unexpected" - Melissa
"fast paced and quite a page turner" - Simone
"a gripping sequel" - amazon reviewer

Some years have passed since Rhuna helped to defeat the Dark Master in her new home of Atlán, and now Rhuna has a teenage daughter who accompanies her on an assignment in Ancient Egypt to investigate some disturbing reports.

She soon discovers an astonishing underground network of the Dark Master's followers, along with the secret group of Atlans dedicated to stopping them. In the process of trying to carry out her assignment, Rhuna is confronted with enormous challenges that could drastically change her entire life and everything she has ever believed in!

Book 3: Rhuna, The Star Child

In the thrilling sequel to Rhuna: Crossroads is set in mystical Ancient Egypt where Black Magic was developed by the followers of the legendary villain, The Dark Master. As strange and frightening curses plague the population, Rhuna discovers the underground organization that performs this uncanny new magic, but she can only combat it with the help of her long-lost father. Having learned from her father amazing new skills to empower her on the Astral Plane, Rhuna once again strives to preserve peace and harmony in the idyllic Atlan civilization.

Far more challenging than fighting powerful Dark Forces, however, is Rhuna's personal anguish when her daughter becomes involved with the leader of the Black Magic movement, and the once-perfect Atlan society based on utopian principles begins to crumble all around her. Shocking events escalate Rhuna's world to a breathless climax as she and her family undergo a momentous upheaval, and she is forced to make great personal sacrifices for her loved ones.
My Review:
Fantastic world building and an intensely gripping plot draw you into this vividly penned novel from page one. Underwood easily & fully transports readers into the fantastic world that she's created, keeping them there. The change in locale during the second novel allows for even more enticing world building, drawing me deep into the mystery that Underwood develops in the beautiful locations that she transports readers to. The seamless plot kept me hooked throughout as Rhuna battles through the challenges before her. Plot twists that I never could have imagined kept me on my toes throughout these enticingly written novels. I couldn't put them down, dying to know what the next twist would bring; and believe me, there were many. Underwood's writing style also called to me. I love how she involves her audience in the story, leading them forward as if they're there alongside her, rather than simply telling them what happened to her characters.
This very character driven series provides a myriad of characters for readers to fall in love with (or to hate, whichever the case may be). I love how these individuals provoke strong emotions in the reader, creating a lasting bond that had me dying for more. I loved the individuals that we met throughout this story. I couldn't get enough of them. They were so easy to get to know and to connect with. I felt as if I'd made friends, rather than simply reading a novel. I loved meeting the new characters as they appeared, but also fell deeper in love with those who journeyed throughout all the novels. The continuous character development made everyone seem so real. The way that their thinking changes, even if minutely, through the events that they face was fantastic.
This is definitely a set of novels that will be loved by readers of all ages. It's clean enough for a YA audience and exciting enough to grip adults and not let go. I know I sure couldn't put it down. Nor can I wait for the next novel in the series.
And now, be sure to enter the fantastic giveaway for a $25 Amazon Gift Card courtesy of author Barbara Underwood!
Contest is open internationally, where applicable by law.
Entries close at 11:59pm Nov 5/16.
Winners will be drawn Nov 6/16.
Winners will be notified via email to the email provided to the giveaway and will have 72h to claim their prize or another winner will be drawn.