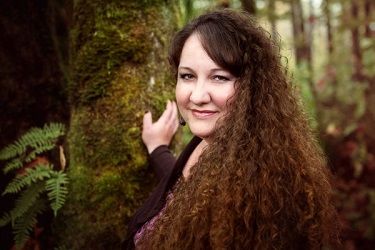 Q ~ Can you tell us a bit about yourself?
I'm a human female from planet Earth. But, really, I'd like to be a forest elf and live out my days with woodland animals, making music, singing to the wildflowers, and hugging trees. Since the latter will never be, I write books where I can vicariously live many lives in many worlds and escape my reality so that a reader might discover something beautiful about their own.
Also, I like cheese.
Q ~ If you could have coffee (or tea) with any author who would it be and what would you ask them? And what would you have?
Normally with questions like this one I squeal in all my fangirl glory that I would have tea with Jane Austen, because she was a revolutionary writer for her era and I believe her brand of sarcasm would get along well with mine. However, my *true* answer today, in this interview, is entirely different. I would shamelessly gossip over coffee with Maggie Stiefvater and ask her if she would be my spirit animal! OK, for reals, though … I would ask Maggie to walk me through the process behind her immensely detailed world building while trying not to gush over "The Scorpio Races." My efforts would be pathetic, but totally worth it.
Q ~ Are there any new (or new to you) Authors that have grasped your interest recently and why?
Absolutely! In fact, I love questions like this. Presently, I love works by Maggie Stiefvater, Veronica Rossi, Leigh Bardugo, Mary E. Pearson, Marie Lu, Sarah J. Maas, Kate Morton, and Sara Raasch. Their SciFi/Fantasy worlds are gripping and vivid. I savor their poetic writing styles like my favorite dessert, slow and full of sighs. And their characters are beautifully complex and memorable.
Q ~ What is one thing that you absolutely need when writing?
My earbuds. I listen to an eclectic ensemble of musicians on a
playlist
and block out all other external stimuli.
Q~ You get a brilliant phrase/idea/thought at an inopportune time (while driving, drifting off to sleep/in the shower) what do you do?
Repeat the idea/phrase a few times to myself and hope for the best. I'm not fatalistic, typically. But when it comes to receiving a burst of inspiration or a missing, interlocking piece of the plot puzzle at an inopportune time, I just take on the attitude that if it's truly meant to be, I'll remember. So far, so good. *bites fingernails*
Q~ How do you decide on the setting of your books?
Well, I write a subgenre of cyberpunk known as "ecopunk fiction." This subgenre takes place in the same setting as cyberpunk, but focuses more on the off-grid, wilderness, junkyard communities that spring up. This means, I have two settings to play with: A sprawling cityscape and some kind of off-grid rural environment. For "The Biodome Chronicles," the setting is even more specific as part of the story takes place within a confined, isolated social experiment housed inside a hermetically sealed Mars prototype biodome. Additionally, the community sealed within the biodome is emulating an agrarian medieval reconstructed society. So, long story short, my ecopunk fiction settings feature the near-future city of Seattle and the anachronistic medieval community of New Eden Township.
Q~How important are names to you in your books? Do you choose the names based on liking the way it sounds or the meaning?
Names are hugely important in my books. The featured characters inside the biodome belong to nobility, their houses named after the four elements: earth, fire, wind, and water. Therefore, names match those elemental themes. Willow Oak, Leaf, Laurel, Coal, Ember, Skylar, Rain, and Canyon are a few notable names inside New Eden Township.
In the "Outside" world of 2054 (the real world beyond the biodome panes), names are still rather thematic. The meaning behind the main character's name, Fillion Malcolm, is twofold. On the surface, he's named after an actor (Nathan Fillion) and that actor's character (Malcolm Reynolds) from the SciFi TV series Firefly. Fillion's father (Hanley) is not only a huge fan of the show, he wants to homestead planets and has devised a way to do so. As the mastermind behind the experiment, Hanley is known for playing multiple plot points at once and claims that "Gamemasters" don't waste time on the obvious, but ponder the hidden. Therefore, Fillion has a "hidden" meaning behind his name as well. "Fillion" is Old French for "son" and "Malcolm" was inspired by the story behind Malcom III, whose father was murdered by Macbeth. Years later, once grown, Malcom III murdered Macbeth as well as Macbeth's son, reclaiming the Scottish Throne. Throughout Fillion's life, he's had to deal with public criticism because of his father, named "Son of a Killer" by the media. The father-son relationship between Fillion and Hanley is critical and illustrates one side of the nature vs nurture theme explored in "The Biodome Chronicles." Fillion's sister, Lynden, also has an interesting tale behind her name, too. But I'll allow readers to discover that meaning on their own.
Q ~ Can you tell us a little bit about your latest release and what inspired you to write it?
TRANSITIONS: Novella Collection (The Biodome Chronicles #2.5) is my latest release, published back in May 2016, and written for the fans who wanted stories from my secondary characters. This novel is a prequel to book three, GAMEMASTER, and contains five novellas of fresh story content from the point-of-view of Ember, Skylar, Rain, Mack, and Lynden. Although fans of the series can read the final book in the trilogy without first reading this novella collection, the third book will make far more sense if they do.
Q~ Do you hear from your readers much? What kinds of things do they say?
Occasionally I hear from my readers. The most common things they share are their love for my characters, which character they most connect with and why, or that they found my story healing. I'm always so touched and humbled when readers reach out to me. I absolutely love it when they interact with me on social media, too!
Q~ What question do you wish that someone would ask about your book, but nobody has? Write it out here, then answer it.
Two questions.
1) Why are the characters on the cover always wearing black or white?
My answer: "Everyone is a pawn on a chess board, awaiting your move, Son of Eden." *winks at reader*
2) Since your books revolve around the cycle of life, do the books themselves each carry a specific theme relating to life, death, and rebirth?
My answer: Yes! LEGACY is death, ELEMENTS is life, and GAMEMASTER is rebirth. TRANSITIONS are the emotional seasons we face when in-between those personal cycles physically, mentally, and emotionally.
About the author:
Jesikah Sundin is a sci-fi/fantasy writer mom of three nerdlets and devoted wife to a gamer geek. In addition to her family, she shares her home in Monroe, Washington with a red-footed tortoise and a collection of seatbelt purses. She is addicted to coffee, laughing, and Dr. Martens shoes ... Oh! And the forest is her happy place.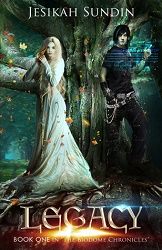 Title:
Legacy
Series:
Biodome Chronicles #1
Author:
Jesikah Sundin
Publication Date:
January 20th 2014 by Just Imagine...
Length:
499pgs
Genre:
YA cyberpunk
Shelf:
review
My Rating: ★★★★ Book Links:
Goodreads
–
Amazon(US)
–
Amazon(CA)
-
B&N
-
Kobo
-
Indigo
-
Smashwords
Back Cover Blurb:
A sensible young nobleman, Leaf Watson, and his sister, Willow Oak, live a rustic medieval life rich in traditions and chivalry. Sealed inside an experimental biodome since infancy, they have been groomed by The Code to build a sustainable community devoid of Outsider interference.
They are unwitting pioneers on a path toward confined interplanetary homesteading.
Life within their walled garden is predictable and peaceful until the unthinkable happens. With his dying breath, Leaf and Willow's noble father bequeaths a family secret, placing an invisible crown of power on Leaf's head. Grief-stricken and afraid for their lives, the siblings defy their upbringing by connecting with Fillion Nichols, a punk hacker who, unbeknownst to them, is linked to their lives in shocking ways. Their encounter launches Fillion into a battle with his turbulent past as he urgently decodes the many secrets that bind them together, a necessity for each to survive.
Youth cultures clash when the high technology of the Anime Tech Movement collides with the Middle Ages in a quest for truth, unfolding a story rich in mystery, betrayal and love.
My Review:
This is a fantastic launch to what promises to be a vivid and engaging series. The exquisitely vivid world building brought everything to life in a manner that I couldn't help but picture. Each aspect of this world, and subsequently, the world around it came to life. The manner in which Sundin developed not only the scenery but also the customs, mythology, and religion of this world allowed me to enter it from every perspective. Details are prevalent throughout the entire novel, in character development, world building, and plot intrigue. I loved how everything fit together. And the story itself was exciting. I found myself trying to guess what would happen next and how the intertwining storylines would all come together. I loved the feeling.
This novel is one that will be loved by readers of all ages. The seamless manner in which the story flows allows the intriguing characters to stand out well and for you to journey along with them in this intriguing tale.