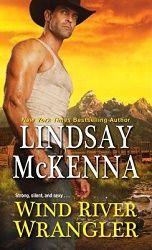 Title:
Wind River Wrangler
Series:
Wind River #1
Author:
Lindsay McKenna
Publication Date:
October 25th 2016 by Zebra
Length:
384pgs
Genre:
contemporary romance
Shelf:
review
My Rating: ★★★ Book Links:
Goodreads
–
Amazon(US)
–
Amazon(CA)
-
B&N
-
Kobo
-
Indigo
-
Google Play
Back Cover Blurb:
WIND RIVER VALLEY

First in a new series by the author of Night Hawk and Out Rider

Still waters run deep . . .
From the moment Roan Taggart picked up the pretty redhead at the Jackson Hole airport, his training and experience told him she was spooked. She's left New York City to visit the Wind River Ranch, where Roan is a wrangler, and just as he can pick up a horse's mood, he can feel the tension coming off her body. And that vulnerability is triggering all his protective instincts...
Shiloh Gallagher likes the gray-eyed cowboy's dry humor—and the Special Forces background that lends him a stoic, powerful presence. But she's been scarred by trauma and her mother's murder . . . and knows a strong man can be dangerous. She came to wide-open Wyoming to flee a threat that's left her unable to write her novels. Now, as she rides horses with Roan and helps him build an isolated cabin, she's slowly letting down her guard. But danger has followed her west, and they won't have a future together unless they defeat a killer from her past…
My Review:
McKenna's new series launcher definitely sets the stage well for upcoming novels. Throughout the story McKenna takes the time to explain a lot of the technical aspects of the story and the characters' lives. It made everything supremely easy to understand. As much as I loved the details, sometimes it was a little too much, detracting from the story. I found I was about 2/3 of the way through the book before anything really happened with the plot proper. Don't get me wrong, there was lots of character development and scene setting, which one would expect in the first novel in a series, but a lot of the time I felt that was all that happened. It was still an enjoyable read but not one that I couldn't put down.
There was loads of character and relationship development at the beginning of this novel. I enjoyed getting to know the main characters so well but felt that it stalled the forward motion of the plot as a whole. The author switches views between the main characters to let readers get both of their feelings and thoughts. Sometimes I felt as if this was done a little too quickly & I felt a little jarred from the story, but for the most part it really added to the tale. Also, the predictability of the identity of the 'bad guy' was also, well, predictable. From the moment he was first mentioned in the story I knew he'd be back. That said, what McKenna did with said character was interesting.
As a whole this was an enjoyable story with likable, original characters. McKenna is off to a good start with this new series.