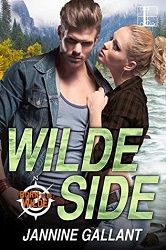 Title:
Wilde Side
Series:
Born to be Wilde #2
Author:
Jannine Gallant
Publication Date:
October 25th 2016 by Lyrical Press
Length:
270
Genre:
romantic suspense
Shelf:
Netgalley
My Rating: ★★★
Book Links:
Goodreads
–
Amazon(US)
–
B&N
-
Kobo
-
Indigo
-
Google Play
Back Cover Blurb:
The Wilde brothers are addicted to the rush of adventure. But one of them is about to discover that it's sink or swim, when passion and politics collide…
Whitewater rafting guide Sawyer Wilde has taken his share of inexperienced adventure seekers through the rapids of Idaho's Salmon River, so his next group should pose no problems—even if it includes a presidential hopeful and his sexy, outspoken aide. After all, it's just a campaign photo-op for the congressman. Until a series of minor mishaps takes a sinister turn…
Devin Lockhart has one job on the rafting trip: to make her boss look both presidential and relatable. And no matter how distractingly attractive their guide is, she plans to do it well. But as danger stalks them through every bend in the river, Devin must put her life—and the congressman's—in Sawyer's capable hands. Because surviving the trip is only the beginning of a deadly ride…
My Review:
Gallant brings the world of rafting and politics to life with this romantic suspense. Vivid descriptions allow readers to visit both alongside the characters as the plot unfolds.
The relationship between the main characters was very easy. I never had any doubt that they'd make it work, even if there were a few kinks to work out between them. The tension and suspense of the story came from the plot and the situations that they found themselves in together. For an adrenaline junkie Sawyer definitely tends to play it safe, especially when it comes to those that he cares about. He was definitely a character that you could get to know. He rarely kept any secrets and was quite an open book. Devin's laid back, all work attitude was a bit of a contradiction at times. I appreciated how she was questioning the turns her life took and wasn't quite sure what the next step was. These main characters were very well developed and likable, I just found it hard to connect with them, to really get into their stories.
As a whole this was an interesting and well thought out story. I enjoyed reading it and will be continuing on with the series.