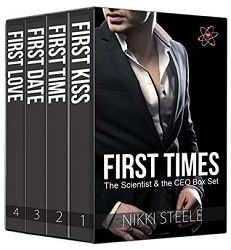 Title:
Box Set: First Times: A Steamy Billionaire Romance about first times (The Scientist & the CEO)
Series:
The Scientist & the CEO #1-4
Author:
Nikki Steele
Publication Date:
August 2nd 2016
Length:
191pgs
Genre:
contemporary romance
Shelf:
shelf
My Rating: ★★★★★ Book Links:
Goodreads
–
Amazon(US)
–
Amazon(CA)
-
B&N
-
Kobo
Back Cover Blurb:
The new, smoking hot romance bundle from best-selling author Nikki Steele.
She's a curvy scientist. He's her billionaire boss. Together, they'll share her first times as he teaches her everything he knows.
Claire has never been with a man before Austin, but even so, she knows he's something special—with wavy dark hair and the most beautiful eyes, he's her CEO but becomes much more after a hot night in her lab.
But Austin has a dark secret—one that threatens to tear them apart. Will her first time also become her first heartbreak? Or will Claire be able to teach Austin just like he's taught her?
This box set contains the complete Scientist & the CEO collection of steamy novellas about a woman who's never been kissed and her handsome billionaire boss. It includes sizzling scenes suitable for 18+ readers only.
This box set includes a special BONUS alternate cover and exclusive wallpapers available only with this collection.
My Review:
Hot & fun, funny & sexy. Steele works it all into this intimate tale. The plot is both exciting and a little hard hitting. Not only did I love the intriguing plot that Steele has developed but I also found myself pondering what I'd do if I found myself in a similar situation. The storyline that Steele penned was compelling. The chemistry between the characters simply heightened it for me.
I love how Steele takes everyday, hard working women, introduces them to the upper echelon of the male species and spins a story that really draws you in. With this first installment in her new serial Steele has me hooked on the vibrant characters that she's created and the relationship that she begins to build.
In the span of a few short pages Steele had me visiting the world that her characters inhabit and dying to know how their story ends. I found myself racing to the end, not wanting to put the story down. This was a quick and satisfying read. This is one series that I definitely wouldn`t hesitate to recommend to others.