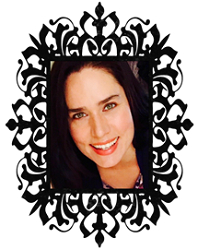 1) Do you have a favorite cocktail?
Oh yes! It's a Prohibition-era one, too: The Last Word. It's a tangy mix of gin, Chartreuse, maraschino liqueur, and lime juice.

2) What kind of research did you do for this book?
I did quite a lot for Teetotaled, particularly researching health farms. It turns out that the 20's were rife with weird health crazes. I also researched Yankee Stadium, ballroom dancing venues, Swiss finishing schools, wedding dress shops, and Coney Island. For researching the fine details of the historical environment—for instance cars, clothes, and houses—I use images. I love Pinterest for this.

3) How did you come up with the idea of the "health farm"?
By imagining the absolute LAST place Lola and Berta would enjoy being :)

4) Lola Woodby finds comfort in chocolate cake. What's your favorite treat?
Chocolate. I am right there with Lola on that one. Chocolate cake is great, but I prefer the unadulterated stuff.

5) If you could pick any decade to live in which one would you choose?
That's an interesting question. We tend to think of past decades as more innocent than our own, but I think human beings are always struggling with versions of the same problems. Researching Teetotaled, for example, I was reading about 1920s American politicians, and boy did they sound just like our contemporary politicians. But to answer your question, despite everything I'd say, if I could be a man, I'd pick the 1960s, but as a woman I'd choose the 21st century.

6) Do you have any special writing rituals?
I often write standing up, and I take frequent breaks to get up and do weird little exercises (maybe I belong in a health farm). Unless I'm working at the coffee shop, of course. Don't want to look like "that crazy lady," you know.

7) What was the most difficult scene to write in Teetotaled?
I'm not sure about a particular scene—Teetotaled was a hoot to write—but I do struggle a little with making sure that the sidekick Berta doesn't steal the show.

8) What do you find most endearing about Lola Woodby?
Lola gets set back and insulted quite a bit, and she just rolls with the punches. Least endearing? Sometimes she doesn't say what's on her mind when it comes to her personal relationships, which leads to misunderstanding.

9) What book is on your nightstand right now?
The Big Fat Lie by Nina Teicholz. It's the surprisingly intrigue-filled story of the demonization of dietary fat in the 20th century. Food history is one of my keen interests.

10) What's in store next for the Discreet Retrieval Agency Mysteries?
I'm just finishing up book #3 in the series, Gin and Panic. It's shaping up to be a doozy :)
About the author:
MAIA CHANCE writes historical mystery novels that are rife with absurd predicaments and romantic adventure. She is the author of the
Fairy Tale Fatal
series,
The Discreet Retrieval Agency
series and the Prohibition-era caper,
Come Hell or Highball
. Her first mystery,
Snow White Red-Handed
, was a national bestseller. Maia lives in Seattle, where she shakes a killer martini, grows a mean radish, and bakes mocha bundts to die for. She is a Ph.D. candidate for English at the University of Washington.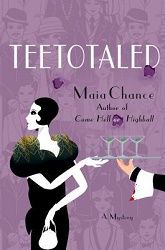 Title:
Teetotaled
Series:
Discrete Retrieval Agency #2
Author:
Maia Chance
Publication Date:
October 4th 2016 by Minotaur Books
Length:
320pgs
Genre:
historical mystery
Shelf:
review
My Rating: ★★★★★ Book Links:
Goodreads
–
Amazon(US)
–
Amazon(CA)
-
B&N
-
Kobo
-
Google Play
Back Cover Blurb:
In Maia Chance's follow-up to her acclaimed Prohibition-era caper Come Hell or Highball, Lola Woodby is hired to find a diary, but soon the diary owner's future mother-in-law is murdered.
After her philandering husband died and left her penniless in Prohibition-era New York, Lola Woodby escaped with her Swedish cook to the only place she could—her deceased husband's secret love nest in the middle of Manhattan. Her only comforts were chocolate cake, dime store detective novels, and the occasional highball (okay, maybe not so occasional). But rent came due and Lola and Berta were forced to accept the first job that came their way, ultimately leading them to set up shop as a Discreet Retrieval Agency, operating out of Alfie's cramped love nest.
Now they're in danger of losing the business they've barely gotten off the ground—they haven't had a job in months and money is running out. So when a society matron offers them a job, they take it—even if it means sneaking into a detox facility and consuming only water and health food until they can steal a diary from Grace Whiddle, a resident at the "health farm." But barely a day in, Grace and her diary escape from the facility—and Grace's future mother-in-law is found murdered on the premises. Lola and Berta are promptly fired. But before they can climb into Lola's red and white Duesenberg Model A and whiz off the property, they find themselves with a new client and a new charge: to solve the murder of Grace's future mother-in-law.
My Review:
Chance's fun & upbeat writing really brings this one to life. The tale is fun, funny, and such a cozy mystery. I absolutely loved the way that each aspect was developed and how everything comes together in a seamless way.
The characters in this novel are an absolute blast. The multifaceted development and the way that they are so over the top at times was fantastic. They're so all over the place yet get the job done!
This is a must read novel for those who enjoy fun mysteries. And the best part? As much as it follows from the 1st novel in the series, it can also be read as a standalone.