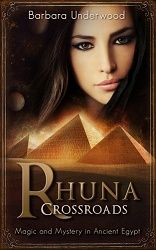 Title:
Rhuna: Crossroads
Series:
Rhuna #2
Author:
Barbara Underwood
Publication Date:
March 8th 2015
Length:
310pgs
Genre:
YA fantasy
Shelf:
review
My Rating: ★★★★★
Book Links:
Goodreads
–
Amazon(US)
–
Amazon(CA)
-
B&N
-
Kobo
-
Indigo
-
Google Play
–
Smashwords
Back Cover Blurb:
The sequel to Rhuna, Keeper of Wisdom, and the second book in an exciting and unique historical Fantasy series, Rhuna: Crossroads is set in exotic Ancient Egypt and features unforgettable characters and a riveting adventure.

Some years have passed since Rhuna helped to defeat the Dark Master in her new home of Atlán, and now Rhuna has a teenage daughter who accompanies her on an assignment in Ancient Egypt to investigate some disturbing reports. She soon discovers an astonishing underground network of the Dark Master's followers, along with the secret group of Atlans dedicated to stopping them.

In the process of trying to carry out her assignment, Rhuna is confronted with enormous challenges which could drastically change her entire life and everything she has ever believed in!
My Review:
Underwood returns to her fantasy world with the same vibrant and inviting writing style that I loved in the first novel. The change in locale allows for even more enticing world building, drawing me deep into the mystery that Underwood develops in the beautiful locations that she transports readers to. The seamless plot kept me hooked throughout as Rhuna battles through the challenges before her.
I loved meeting the new characters that Underwood presented here, but also fell deeper in love with those who returned from the 1st novel. The continuous character development made everyone seem so real. The way that their thinking changes, even if minutely, through the events that they face was fantastic.
Once again Underwood has created a novel that I couldn't put down. It was a one of a kind experience that I wouldn't hesitate to recommend to others. That said, for the full experience I would also suggest reading the entire series in order.
And now, be sure to enter the fantastic giveaway for a $25 Amazon Gift Card courtesy of author Barbara Underwood!
Contest is open internationally, where applicable by law.
Entries close at 11:59pm Nov 5/16.
Winners will be drawn Nov 6/16.
Winners will be notified via email to the email provided to the giveaway and will have 72h to claim their prize or another winner will be drawn.