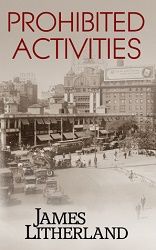 Title:
Prohibited Activities
Series:
Watchbearers #4
Author:
James Litherland
Publication Date:
October 18th 2016 by Outpost Stories
Length:
181pgs
Genre:
Science Fiction
Shelf:
Review
My Rating: ★★★★ Book Links:
Goodreads
–
Amazon(US)
–
Amazon(CA)
-
B&N
-
Kobo
-
Indigo
Back Cover Blurb:
—A Matt and Page Adventure

COURTING their way through the nineteen twenties, time-travelers Matt and Page just want to enjoy the Jazz Age, but between corrupt cops and agitating anarchists, their concern quickly turns to making it to the thirties.

My Review:

Litherland returns to his world of the Watchbearers with the same writing style that I've come to know and love him for. He drew me deep into the story and kept me hooked with an engaging plot. I love how vividly Litherland brings the scene and time period to life for this novel. I felt as if I'd traveled back alongside the characters. The plot kept me engaged throughout, providing a wild ride that I thoroughly enjoyed.

I enjoy the way that Litherland develops his characters. They are vivid and well developed, but at the same time, Litherland allows you to form your own thoughts and opinions of them. Throughout the novel he drops hints and tidbits about them as they work their way through the events of the story.

This author definitely has a vivid imagination which he brings to life through his intricate and exciting tale. At the same time, it's easy to see the possibilities in the story he tells. The combinations is a fantastic mix!