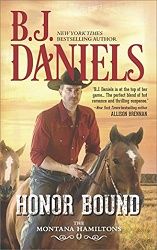 Title:
Honor Bound
Series:
The Montana Hamiltons #6
Author:
BJ Daniels
Publication Date:
November 1st 2016 by HQN Books
Length:
384pgs
Genre:
contemporary romance
Shelf:
Netgalley
My Rating: ★★★★★
Book Links:
Goodreads
–
Amazon(US)
– Amazon(CA) -
B&N
-
Kobo
-
Indigo
-
Google Play
Back Cover Blurb:
Protecting her life will mean betraying her trust
Ainsley Hamilton has always been the responsible one of the family. As the oldest daughter of presidential candidate Buckmaster Hamilton, she's also a potential target. For months she's sensed someone following her. When an expedition to scout locations for a commercial takes a terrifying turn, she's rescued by a natural-born cowboy who tempts the good girl to finally let loose.
Sawyer Nash knows just how reckless it is to fall for someone he's gone undercover to protect. Yet masquerading as an extra on set, he starts to see beneath Ainsley's controlled facade. And with the election—and a killer—drawing closer, Sawyer stands to lose not just his job and his life but the woman for whom he'd gladly risk both.
My Review:
This is definitely one of those fantastically memorable novels that leads to a bittersweet moment because it ends a series. Daniels has wrapped up all of the loose ends from the series while also taking readers on a wild ride with this story in and of itself. The action kept me on my toes while the suspense made it impossible to put down the novel. At the same time, Daniels' down home storytelling and picturesque descriptions transport readers to the quiet tranquility of a Montana ranch.
The characters that she brings to life here are quite probably my favorite of the series. Ainsley's quiet self assurance and need to be perfect are tempered by Sawyer's slight hero complex. Together these two made me laugh & swoon. On top of that, the supporting cast was a blast. I couldn't believe some of the twists that they threw into the story. This cast took a great story and made it unforgettable.
All in all this was a fantastic wrap up to Daniels' series. The tale was fast paced and the chemistry between the characters was off the charts. I wouldn't hesitate to recommend it to those who enjoy romantic suspense with a western twist.