City As Character by Gabriel Valjan
We've all have heard the debate – Is it environment or the individual? Most of us will conclude that while the individual will triumph and overcome circumstances, there is a lot to be said about surroundings. Two weeks into living in Los Angeles, I was returning to campus and I walked across the mid-point of the street. There was no traffic and I wasn't about to walk the considerable distance to the intersection and wait for the light to tell me when I could cross the street. There were no cars anywhere! I crossed the street and out of nowhere, behind me I hear a police siren. A motorcycle cop stopped me for…jaywalking. He asked for identification and he decided that he wouldn't issue me a ticket because I was new to the city. Another friend of mine was less fortunate and he made a photocopy of the citation to show his friends back home because he knew they wouldn't believe him. After all, wending your way through traffic in Manhattan and 'talking' to drivers and honking horns were all a rite of passage.
Cities – those places where we live, love, and work – are the backdrop to our lives, with their own rhythms, rituals and morality. James Lee Burke or Bill Loehfelm dish out Creole food and force the reader to wade through bayou humidity and swamp gas. Both Raymond Chandler and James Ellroy map out race relations: where you can and can't go in Los Angeles. Henry James and Edith Wharton usher us into the parlors to reveal the parameters of privilege in blueblood Boston or New York. Lindsay Faye and Caleb Carr chaperone readers through the alleyways and tenements of Gotham, early Manhattan, where the poor struggled for their daily bread.
In setting a story in another culture, the author introduces readers to etiquette and the unwritten rules of behavior. In Italy, if invited to dinner, one doesn't arrive empty-handed, and certainly not with chrysanthemums. A cappuccino is a breakfast drink at a table with a pastry, whereas everyone stands at the bar and bolts their espresso back. The art of the passeggiata, the post-dinner evening walk, is all subtext because being seen is important. Appearances aren't superficial, but a statement of health and a zest for life. An American looks at the Eiffel Tower and thinks Paris, whereas a Parisian looks at it as German engineering they could do without. Where you are from does shape how you look at the world. Remember the two characters in Scorsese's Mean Streets who couldn't escape the thugs because all they knew the streets of Little Italy? A Roman may zip around the Coliseum on his Vespa, thinking nothing of his city's historical past and yet hold a graffiti artist in high esteem because graffiti is an ancient art form. Maybe what happens in Vegas does stay there.
If you choose to set your story in a city in a foreign land, extensive research, a trip helps, and having native informants are essential.
Author's Bio:
Gabriel Valjan lives in Boston, Massachusetts. He is the author of the Roma Series, available from Winter Goose Publishing. Gabriel has also written numerous short stories and essays found online and in print.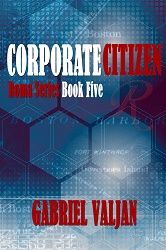 Title:
Corporate Citizen
Series:
Roma #5
Author:
Gabriel Valjan
Publication Date:
October 5th 2016 by Winter Goose Publishing
Length:
388pgs
Genre:
mystery
Shelf:
review
My Rating: ★★★★
Book Links:
Goodreads
–
Amazon(US)
–
Amazon(CA)
-
B&N
Back Cover Blurb:
A call for help from an old friend lands Bianca and the crew back in Boston. On a timeout with Dante, due to revelations in the aftermath of the showdown in Naples, Bianca is drawn to a mysterious new ally who understands the traumas of her past, and has some very real trauma of his own. Murder, designer drugs, and a hacker named Magician challenge our team, and Bianca learns that leaving Rendition behind might be much harder than she thinks.
My Review:
Once again Valjan combines mystery and suspense, creating a unique novel set in Rome that easily transported me there. The setting was well developed, allowing readers from all over the world to picture what was happening and where. This was a suspenseful novel that had me trying to unravel the intricate storyline as the characters lived it. Valjan really makes me think about everything that comes up as I was trying to unravel the mystery.
I thoroughly enjoyed how he continues to build on the world, characters, and events of the previous novels of the series, while also writing in such a manner that readers could read this as a standalone.
All of the characters in this novel, be they major players or minor ones, were easy to get to know. They are strong individuals who were imperative to the story.
Suspense and mystery definitely ruled the day in Valjan's latest release.This was a complex novel with a great deal of intensity of the tale. This is a fantastic novel that I'd definitely recommend to others.
And now, enter to win in this fantastic tour wide giveaway!