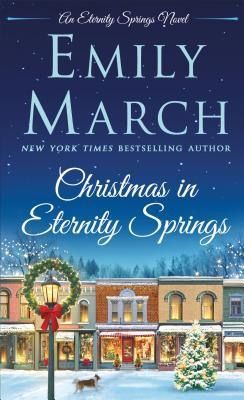 Title:
Christmas in Eternity Springs
Series:
Eternity Springs #12
Author:
Emily March
Publication Date:
October 4th 2016 by St Martin's Paperbacks
Length:
336pgs
Genre:
contemporary romance
Shelf:
review
My Rating: ★★★★★
Book Links:
Goodreads
. –
Amazon(US)
–
Amazon(CA)
-
B&N
Back Cover Blurb:
Can Miss Christmas find her spirit again?
After a devastating betrayal, Claire Branham packs up the pieces of her life, along with a twenty-million-dollar secret, and moves to Eternity Springs. She opens a specialty shop—Forever Christmas—and, with the help of a surprise romance with the town's sexy new handyman, Claire's heart begins to heal. Until her past comes knocking…
Jax Lancaster never questioned the need to abandon his career as a Navy submariner in order to care for his young son in the wake of his ex-wife's death. Desperate to help with this loss, Jax straps on a tool belt to give Nicholas the one thing he wants: A life in Eternity Springs. What Jax never expected to find a second chance at love with a fascinating woman for whom Christmas has become a business. But when the truth about Claire threatens their newfound happiness, can Jax prove to her that in Eternity Springs, the spirit of Christmas is real. . .and will last a lifetime?
Excerpt
:
Prologue
December
Dallas, Texas
The fragrance of Christmas swept into the house along with the tree that the garden center's deliverymen carried inside. As they placed the twelve- foot- tall blue spruce into the stand she'd positioned in front of the living room picture window, Claire Branham allowed herself to reflect on the once- upon- a- time memories triggered by the scent.
Days of Christmas Past. Such happy times— laughter and excitement and family traditions. A home filled with love. All lost, wiped away by the reality of illness and death and broken hearts.
As she watched the workers secure the tree to the stand, she reflected upon what a momentous occasion this was for her. She hadn't put up a Christmas tree in a very long time. For Claire, Black Friday didn't represent the beginning of the holiday shopping season. It signified the day the doctor's office called and changed the lives of everyone she loved.
Fifteen Christmases had passed since that first life-altering year. Some years, she'd gone through the motions of participation, even though her heart wasn't in it. Other years, she did her best to ignore it entirely. Mostly, she'd muddled through, grumpy and unhappy and counting the days until the season was over for another year.

"That should do it," said the deliveryman, stepping back from the tree. He handed Claire a little green bottle of preservative. "Mix this with water according to the directions. Add water as needed. Doesn't hurt to check it every day, but it needs to be watered at least every other day."

"Thank you."

"You picked a pretty one, Ms. Branham. You have a perfect spot for a tree in this home. Now . . ." He flipped a page on his clipboard. "Are we decorating the tree, too, or just doing the outdoor lighting and decorations?"

"You're hanging the outdoor lights and helping with the high things inside the house. I'm saving the tree to decorate until my fiancé gets home from a business trip tomorrow."

Claire showed him the outdoor decorations in her garage, then went back inside to begin draping garland on the staircase. Anticipation made her feel like a child on Christmas morning. It had been years since she'd decorated a tree, and she couldn't wait to do it again. This year, Claire wasn't spending her holiday season with her Grinch on. She was going all Elf. Because for the first time in forever, the thought of the holiday season made Claire happy.

It started on Black Friday. Rather than launching her usual month- long depression, Black Friday this year got Claire off to a joyful holiday start. After she and Landon ran the Turkey Trot 10K on Thanksgiving morning, she'd sent him off to the airport with a kiss and a turkey sandwich so he could make his early afternoon flight to the West Coast where he had meetings scheduled with movie executives. Friday morning, rather than lie in bed with her covers over her head as in years past, Claire had bounded out of bed early, joined the shopping hoards, and had a ball doing it.

It set the tone for her days as she anticipated Landon's return. Claire was happy and excited and joyful. With Landon's help, she had climbed her way out of the valley of loss and loneliness and found her happiness. Now, she was finding her Christmas spirit again.
My Review:
March has created her best Eternity Springs novel yet with this fantastically heartwarming release. Intimate descriptions bring the one of a kind story to life in an unforgettable manner. I love how the warmth and power of Eternity Springs works its way through everything that happens.
Not only is this a very character driven story, but the characters are fantastic. They easily wormed their way into my heart, making it impossible to walk away from them. The way that March draws you into their lives, allowing you to get up close and personal with their daily lives and the issues thT they are facing was fantastic.
This was a fantastically heartfelt and emotionally fulfilling novel that I wouldn't hesitate to recommend to anyone.