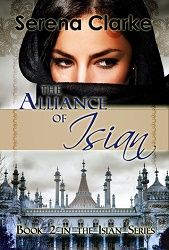 Title:
Alliance of Isian
Series:
Isian #2
Author:
Selena Clarke
Publication Date:
August 30th 2016 by Red Mountain Shadows Publishing (first published November 4th 2013)
Length:
283pgs
Genre:
Fantasy
Shelf:
review
My Rating: ★★★★★ Book Links:
Goodreads
–
Amazon(US)
–
Amazon(CA)
-
B&N
-
Kobo
-
Indigo
-
Audible
Back Cover Blurb:
War is coming and all the kingdoms must choose a side. Isian decides to make an alliance with their long time enemies in order to defeat a common enemy. So Isian sends a proposal, offering their daughter to the prince, in order to ensure an alliance.
Princess Gabrielle and her new husband, Prince Alec must learn to work together and trust each other in order to triumph in the approaching war.
With a mysterious beast attacking the kingdom, their lives in danger, and overcoming their vast cultural differences, will love grow despite their trials or tear them apart?
Enjoy the fantasy, danger, mystery, and romance!
My Review:
Wow! This series just keeps getting better. Clarke melds fantasy with a vivid manner of storytelling that had me hooked. The intricate descriptions lend themselves to Clarke's vivid world building while the intimate voice allowed me to really get into the exciting and fast paced plot.
I love how Clarke showed the separation between those who approve of magic and those who don't. It's not just a given thing in this world. Many are against it, and for good reason. This divide added a complexity to this tale that I never expected.
I love how character driven this story was. It really allowed me a mulit-perspective view of the story. Beyond that, I truly enjoyed getting to know these new characters. They quickly and easily found a place in my heart.
All in all this was a fantastic story on it's own and an unforgettable addition to the Isian series. I'm dying to see what comes next!