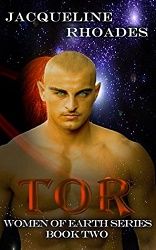 Title:
Tor
Series:
Women of Earth #2
Author:
Jacqueline Rhoades
Publication Date:
September 3rd 2016
Length:
326pgs
Genre:
SciFi Romance
Shelf:
review
My Rating: ★★★★★ Book Links:
Goodreads
–
Amazon(US)
–
Amazon(CA)
-
B&N
–
Smashwords
Back Cover Blurb:
Always feeling overshadowed by her pretty and outgoing sister, quiet and self-effacing Wynne Donazetto dreams of college and building a life of her own were lost when Earth was invaded by two warring alien forces. Earth changed, but Wynne didn't.
Seven years later, Wynne is still living in her sister's shadow. She's comfortable there... until her life explodes along with the starliner she's travelling on and she ends up in the arms of a sexy space-aged smuggler called Tor.

Tor's life revolves around his ship and his crew and both have been taken from him. He'll do whatever it takes to get them back, even if it means sacrificing himself. Meeting the woman of his dreams is a complication he doesn't need.

Together with Tor and his eclectic alien crew, Wynne sets off on the adventure of a lifetime to retrieve a stolen spaceship and its cargo of kidnapped Women of Earth. Along the way, she'll discover a strength she never knew she had and a love that will change her life forever.
My Review:
This is the intergalactic romance of the year! It is a book that you just want to curl up with and get lost in. The plot is fast paced and exciting. The unique and fascinating concepts make this world one of a kind and the story unforgettable. Her new twist on the 'bride train' was priceless. I love the bits and pieces of earth's history throughout, as well as the comparisons drawn with the new worlds and races that we encounter. Rhoades' magical descriptions bring everything to life.
Tor's guilt and self-hatred bring out both his true personality and the situation that he finds himself in. His toughness is tempered by his compassion, yet he's still all male. On the other hand, seeing Wynne find her own personal strength throughout really drew me to her. And as much as I loved these two as individuals, as a couple they were unforgettable. The chemistry between them was off the charts, and seeing them come to grips with the difficulties that anything between them may cause, well, you'll just have to read the story to find out more.
This was a truly fun story. Rhoades seamlessly combined emotion, romance, and adventure in this intergalactic tale that is a must read story.