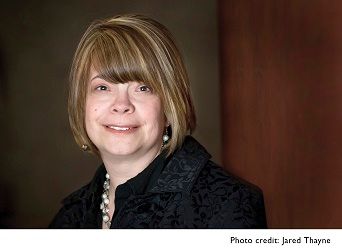 Q: When Wyn asks Andrea to help keep an eye on Marshall after he's injured in a hit-and-run accident, it's not exactly love at first sight. Marshall is stubborn and a bit of a grouch, and Andrea is both intimidated and annoyed by him. Can you tease a little bit about what draws them to each other despite their initial prickliness?
A: Andie doesn't want to like Marshall. She had been married to a man in law enforcement and had lost him too soon, then had been cruelly betrayed by another one. But even as she tells herself she wants someone who is the exact opposite of Marshall—someone predictable and nonthreatening—HE is the one who makes her feel safe and protected. As for Marshall, he never pictured himself with a family of his own. He is dedicated to his job protecting and serving the people of Lake Haven County and never imagines that he might thrive in the role of father-figure … until Andrea's mix of strength and vulnerability steals his heart (and so do her two adorable children!).
Q: Andrea is a character who has suffered a great deal of loss and personal trauma, particularly since her police officer husband was killed in the line of duty. What are the challenges and rewards of incorporating heavier themes into a story about love and romance?
A: I tend to put my characters through some truly awful ordeals! I feel a bit guilty about that sometimes … but then I remind myself that strength of character doesn't come to people who have never been tested by challenges. Life isn't perfect, unfortunately, not for my characters and not for my readers. I try to show that even when people have suffered unimaginable heartache, the world doesn't have to end. Life can still be filled with joy and beauty. When happiness is hard-earned, it tends to be more intense and more deeply appreciated, as my characters often discover.
Q: One of the subplots in this novel deals with Marshall and a surly teenage boy who lives next door with his grandparents. Can you tell us a little about that relationship and why you wanted to explore it in this book?
A: I sometimes write myself into a corner with heroes or heroines who first appear as secondary characters in previous stories. When I decide to move them up to center stage, I can be faced with certain limitations I have to figure out how to write around. In RIVERBEND ROAD, I had set Marshall up as the sheriff of Lake Haven County and had him living in the nearby town of Shelter Spring. That became a bit of a problem when I decided he was the perfect hero for Andie. If I wanted to give them a chance to fall in love, I needed his orbit to collide with Andie's on a regular basis. I had to give Marshall a strong reason to move back to Haven Point … and a possible connection to the troubled teenage boy next door definitely offered that! It also turned Marshall into something more than jus a sexy sheriff. He's got troubles of his own, things he needs to work through in order to open his heart to Andie, and Christopher plays a big part in that.
Q: A major theme in this book is the idea of opening yourself up—for Andrea, this means opening herself up to the idea of falling in love again, and for the independent and solitary Marshall, it means learning to open himself up to the help and love of other people. What made you interested in writing about two people who are, in some ways, resistant to the idea of falling in love?
A: I absolutely adore stories when two characters fight against their feelings and go down kicking and screaming—and when both have logical, viable reasons not to want to take that risk. Andrea and Marshall definitely have strong self-protective instincts, which I think makes those moments when they finally yield and soften toward each other even more poignant.
Q: We have to ask, what's next for you? Are you planning more Haven Point novels? If so, can you give us some hints about what's coming up?
A: Right now I'm working on Katrina Bailey's book, which will be out next summer. She's quickly turning into one of my favorite heroines ever! I've given her a sexy geek of a hero with a mysterious past, in the midst of an extremely challenging situation. I can already tell the two of them are absolutely perfect for each other! I'm still working out what I'll write after Kat's book, whether I'll stay in Haven Point, return to Hope's Crossing, or start something new. Readers have been asking me for Aidan Caine's book (he's the only unmarried Caine sibling from my Hope's Crossing series), so I'm still trying to find the perfect match for that sexy helicopter pilot.
About the author:
New York Times and USA TODAY bestselling author RaeAnne Thayne loves words. Her love affair started as soon as she learned to read, when she used to devour anything she could get her hands on: cereal boxes, encyclopedias, the phone book, you name it! She loves the way words sound, the way they look on the page and the amazing way they can be jumbled together in so many combinations to tell a story.
Her love of reading and writing those words led her to a fifteen-year career in journalism as a newspaper reporter and editor.
Through it all, she dreamed of writing the kind of stories she loved best. She sold her first book in 1995 and since then she's published more than 40 titles. Her books have won many honors, including three RITA® Award nominations from the Romance Writers of America and a Career Achievement Award from RT Book Reviews.
RaeAnne finds inspiration in the rugged northern Utah mountains where she lives with her hero of a husband and their children. She loves to hear from readers and can be reached through her website at www.raeannethayne.com.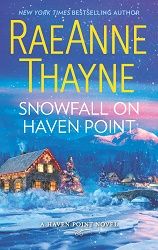 Title:
Showfall on Haven Point
Series:
Haven Point #5
Author:
RaeAnne Thayne
Publication Date:
September 27th 2016 by HQN Books
Length:
384pgs
Genre:
contemporary romance
Shelf:
review
My Rating: ★★★★★
Book Links:
Goodreads
–
Amazon(US)
–
Amazon(CA)
-
B&N
-
Kobo
-
Indigo
-
Google Play
Back Cover Blurb:
There's no place like Haven Point for the holidays, where the snow conspires to bring two wary hearts together for a Christmas to remember
It's been two rough years since Andrea Montgomery lost her husband, and all she wants is for her children to enjoy their first Christmas in Haven Point. But then Andie's friend asks a favor—to keep an eye on her brother, Sheriff Marshall Bailey, who's recovering from a hit and run. Andie will do anything for Wyn, even park her own misgivings to check on her grouchy, wounded bear of a brother.
Marshall hates feeling defenseless and resents the protective impulses that Andie brings out in him. But when a blizzard forces them together for the holidays, something in Marshall begins to thaw. Andie's gentle nature is a salve, and her kids' excitement for the holidays makes him forget why he never wanted a family. If only he and Andie can admit what they really want—each other—their Christmas wishes might come true after all.
My Review:
Thayne brings this small town to life in a big way with her latest Haven Point novel. The novel is simultaneously emotional, comical, and romantic, leaving you with a feeling of redemption. My heart may have been on my sleeve throughout, but that didn't stop me from laughing at the characters' antics. The story itself is intricately and realistically crafted, providing an endlessly enjoyable tale for readers.
Thayne brings her characters' pasts and present together in a way that creates an intimate yet shocking story for those who enjoy romance with a little bit more. Her seamless writing allows you to flow through this story and enjoy it. The main characters are such phenomenal individuals, so well developed and approachable, that you can't help but love them. At the same time, it is their thoughts and decisions that propel this story into the realm of loveable.
Vividly picturesque descriptions bring this novel to life as Thayne's fantastic characters share their intimate tale with readers the world over. This is a fantastic tale that can be easily enjoyed by those who love the series and those who are looking to experience Thayne's work for the first time.