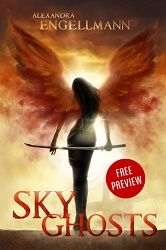 Title:
Sky Ghosts: The Night Before
Series:
Sky Ghosts #0.5
Author:
Alexandra Engellmann
Publication Date:
August 2/16
Length:
43pgs
Genre:
urban fantasy
Shelf:
review
My Rating: ★★★★
Book Links:
Goodreads
–
Amazon(US)
–
Amazon(CA)
-
B&N
-
Kobo
-
Indigo
-
Smashwords
Free on Amazon, Smashwords, Nook, Kobo, Wattpad, and Free-ebooks.net! Click "Read Book" to read on Goodreads.
Back Cover Blurb:
For centuries, Sky Ghosts have been hiding their differences from humans, living among them in secret. Their powers, skills, and the gift of flight turned them into the best protectors the human elite could ever have. But for every one of them who believes in fair work and duty, there are ten more who use their power to prey on the weak and avoid justice. They're called Sky Beasts, and the war between them and the New York Sky Ghosts Headquarters has reached a fevered pitch.

Patricia aka Pain is known as the "kill first, ask questions later" kind of girl. An urban legend at twenty-one, she helps to secure the Headquarters' future in her own way - by slaughtering Beasts in between working bodyguard jobs. When a certain gang leader resurfaces on the gloomy Brooklyn outskirts, she makes a plan, which includes her big sword, her best friend, and good old improvisation.

There's only one minor detail - it all sounds too good to not be a trap.

Sky Ghosts: The Night Before is a short standalone story, serving as a free preview to the Sky Ghosts series. A crossover between Urban Fantasy and Action Comedy, it's suitable both for adults and young adults.
My Review:
What an intriguing introduction into the world that Engellmann has created. She allows readers to dip their toes in, getting to know the characters and having a taste of the world while also leaving them wanting to know more about this intriguing world so like our own yet also completely different. Engellmann's writing was engaging, keeping me hooked and really bringing forward the plot. Engllemann places her realistic characters in a fantastically exciting, supernatural world.
Engellmann's originality and solid writing are sure to send this series flying, creating an exciting and fast paced world that will leave readers wanting more.