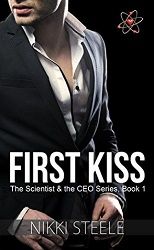 Title:
First Kiss
Series:
The Scientist & The CEO
Author:
Nikki Steele
Publication Date:
August 2/16
Length:
52pgs
Genre:
contemporary romance
Shelf:
review
My Rating: ★★★★★ Book Links:
Goodreads
–
Amazon(US)
–
Amazon(CA)


Back Cover Blurb:
I let him kiss me, marveling at the emotions zipping through my body. Hesitation, at first, then fear—that somehow, I would get this all wrong. I'd never been kissed like this before—at least, not outside my imagination.

But that warm touch—his hand in my hair, the other sliding under my coat—it melted the fear away. My lips began working back against his. My hands cautiously roamed his body. I pressed against him, just a little, in excitement.
Claire has never been kissed. She hides her curvy figure behind a lab coat and is resigned to the fact that she'll never meet a man.
But then Austin walks into her life. He's the rich, powerful, arrogant CEO of the pharmaceutical company she works for—and the most handsome man she's ever met. When they get locked together for the night, sparks will fly… and by the time morning comes, they'll both have discovered something neither of them has had before.

First Kiss is a short, steamy romance that follows the relationship between a plus size scientist and her handsome billionaire boss, including a raunchy first time scene which is foradults only.

This is book one in a four part series. Each book is a self-contained episode, but just like a good TV series, this first book has a cliffhanger which builds a larger storyline across the four books. The series has a HEA.
My Review:
I love how Steele takes everyday, hard working women, introduces them to the upper echelon of the male species and spins a story that really draws you in. With this first installment in her new serial Steele has me hooked on the vibrant characters that she's created and the relationship that she begins to build. In the span of a few short pages she has be visiting the world that they inhabit and dying to know how their story ends. I definitely can't wait to see what happens next.