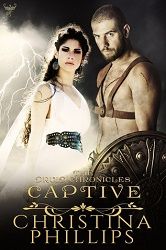 Title:
Captive
Series:
Druid Chronicles #2
Author:
Christina Phillips
Publication Date:
September 5th 2016 by Phoenix 18 Publishing (first published January 20th 2011)
Length:
406pgs
Genre:
historical fantasy
Shelf:
review
My Rating: ★★★★ Book Links:
Goodreads
–
Amazon(US)
–
Amazon(CA)
-
B&N
-
Kobo
-
Indigo
Back Cover Blurb:
A Druid priestess falls for the wrong man – the warrior who's taken her prisoner…
Hungry for revenge, Druid acolyte Morwyn turns her back on her goddess and vows to fight the Roman invaders. But before she can join up with the rebels, she's captured by a tough Gaul mercenary.
Bren, pledged to the true Briton king, has spent three years undercover in the Roman Legion. When his own unit attacks a fiery Celtic beauty, he saves her the only way he can – by claiming her as his prisoner. He knows he can't trust her but, as her icy disdain thaws, her quick wit and infectious laugh lighten his blackened soul and he craves for the chance of a normal life–with her.
Infuriated yet intrigued by her captor, Morwyn can't help falling for his gruff charms and rare smile. He's her enemy but he has honor and the longer they're together the less she believes in his brutal reputation. He's her Gaul, and in the black of night, in his arms, she dreams of a future together.
But the wrath of a spurned goddess echoes through the land and Morwyn and Bren need to overcome their past, put their trust in each other and face their deepest fears for the chance to survive in a fractured world.
My Review:
Phillips' captivating and vibrant storytelling bring this world to life in a big way. Intricate descriptions allow readers to experience a time long past filled with magic and unforgettable danger. The well-developed plot was fast paced and exciting, keeping me coming back for more throughout.
The star crossed lovers that Phillips develops here were a pleasure to get to know. I love how easily they come together as individuals yet how their respective lives also cause issues with their relationship. The multifaceted character development really let me get to know them on many levels. They are definitely the type of strong individuals who do a historical romance justice.
This is a fantastic novel that I wouldn't hesitate to recommend to others. It can easily be read as a standalone or as part of Phillips' series.