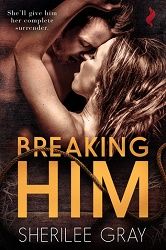 Title:
Breaking Him
Author:
Sherilee Gray
Publication Date:
September 5th 2016 by Entangled Publishing LLC
Length:
142pgs
Genre:
contemporary romance
Shelf:
Netgalley
My Rating: ★★★★★
Book Links:
Goodreads
–
Amazon(US)
–
Amazon(CA)
-
B&N
-
Kobo
-
Indigo
-
Google Play
Back Cover Blurb:
Folks in town call him a monster—say he's dangerous. But I know him simply as Elijah Hays, the quiet, gentle giant who works with the horses on my ranch. I can feel him watching me, that steady intense gaze making me crave things I don't quite understand, burn in a way that frightens me. He's always kept his distance…until that night.
I remember him coming to my rescue, me following him into the barn, giving him his first taste of a woman, and his inexperienced yet barely reined touch turning me to ash.
Now all I can think about is exposing the dark desire I see deep inside him—having him turn those dark desires on me. That low, gritty voice rasping orders in my ear. Those huge, rough hands holding me down when a storm blows in.
I want his surrender. His control. I want to break him…and have him break me…
My Review:
The 1st person perspective really gets you into the heart of the tale. It's real and messy and oh so hot. The story was also very emotionally poignant. Gray had me near tears a time or two. I love the subtle yet beautiful way that Gray brings this ranch to life. The exquisite descriptions really show the beauty yet also the harshness of the land. It's the perfect backdrop and imagery for these characters and their lives.
My heart broke for Eli. He was such a complex yet simple character. His strength and caring had me melting. This is the type of novel that someone is bound to leave a bad review for, citing too much sex and chemistry, and that's what makes this tale so fantastic. It's all so real and part of who these characters are. It's intrinsic to their lives.
This was a fantastic read that I wouldn't hesitate to recommend to anyone looking for something sizzling hot that also packs an emotional punch. But it does leave me with one burning question: how have I never read anything by this author before? Because this definitely won't be the last.