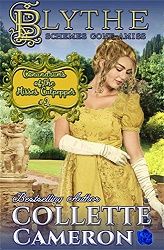 Title:
Blythe: Schemes Gone Amiss
Series:
Conundrums of the Misses Culpepper #2
Author:
Collette Cameron
Publication Date:
February 1/16 by Blue Rose Romance LLC.
Length:
179pgs
Genre:
regency romance
Shelf:
review
Rating: ★★★★★
Book Links:
Goodreads
-
Amazon.com
-
Amazon.ca
-
B&N
-
Kobo
-
Indigo
-
Google Play
-
Audible
Back Cover Blurb:
Is his honor more important than winning her heart?
Intrepid and outspoken, Blythe Culpepper is dragged against her will to London for a Season. To her dismay, her guardian enlists the devilishly attractive Lord Leventhorpe, the one man she detests, to assist with her Come Out. Since their first encounter, hostile looks and cutting retorts have abounded whenever they meet, yet she cannot deny the way her body reacts when he's near. So perhaps it's no surprise that upon overhearing another woman scheming to entrap Tristan into marriage, Blythe risks all to warn him.
Haunted by childhood trauma, Tristan, the austere and controlled Marquis of Leventhorpe, usually avoids social gatherings. So why, against his better judgement, does he agree to aid his closet friend in presenting the Culpeppers to the ton? Might it be because one Culpepper stirs more than his interest? Blythe taxes him to his limits with her sharp wit and even sharper tongue. Yet, he cannot deny the beauty fascinates him.
However, when an old enemy comes calling, using Blythe to settle old scores, Tristan must decide if protecting his honor is more important than winning the heart of the woman he has come to love.
My Review:
Flimflam and goose-butt feathers! What an absolutely unforgettable novel. This is regency romance at its finest. The setting comes to life under Cameron's talented pen. She weaves a world steeped in the past, taking readers back in time to experience the lives of her characters for a short while. The plot was intriguing and realistic. The romance was very real, yet not very easy for the characters.
The Misses Culpepper are most definitely my favourite romance heroines of all times. Blythe is priceless from the get-go. I love her reactions to things. I enjoyed getting to know the many sides of Tristan's character. There was just so much to love, without him being too perfect. Surrounded by their friends and family, this was the perfect cast to get lost with.
The narrator for the audio version of this tale brings every aspect to live in an explosive way! The characters walk alongside you as their tale unfolds in a lively and captivating manner. I loved the different idiosyncrasies that really pop through the narration.
Collette Cameron makes romance fun. I laughed from the beginning to the end of this novel, all the while falling in love with these remarkable characters. This is one of those novels that leaves you smiling and hugging your book when it's over, not ready to admit you've reached the end yet completely satisfied.