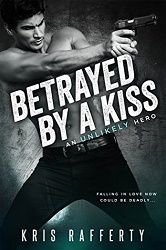 Title:
Betrayed by a Kiss
Series:
An Unlikely Hero
Author:
Kris Rafferty
Publication Date:
August 29th 2016 by Entangled: Select Suspense
Length:
226pgs
Genre:
romantic suspense
Shelf:
Netgalley
My Rating: ★★★★ Book Links:
Goodreads
–
Amazon(US)
–
Amazon(CA)
-
B&N
-
Kobo
-
Indigo
-
Google Play

Back Cover Blurb:
Marnie Somerville is sure Dane MacLain is just another bad guy. Her job as resident investigator at Whitman Enterprises is to track down the owners of delinquent accounts, but something about Dane's case is off, and Marnie can't resist a good mystery. The secret files and cover-up she finds after hacking her boss's computer are more than she expected, and now she's fleeing her former employer...right into Dane's arms.
Former detective Dane MacLain has spent the last year gathering intel against Whitman Enterprises, the company he believes responsible for his wife's death. When a beautiful and intense woman shows up with information, Dane is willing to accept all she has to offer, especially when the help comes in such a sexy package. Caught in a deadly cat and mouse chase, Dane must do everything he can to protect Marnie as they run for their lives.
My Review:
I'll admit that this is a new to me author and a novel I wasn't too sure about when I started reading. Based on the cover and the description, this is one of those novels that could go one of 2 ways: either be a little on the cheesy, formulaic side, or be fantastic. But the cover definitely caught my eye, causing me to check it out, and I'm quite glad that I did.
Rafferty's solid and exciting plot drew me in, kept me thinking, and had me coming back for more. The suspense ran high throughout as Rafferty's vibrant and larger than life descriptions brought everything to the forefront in a manner that was impossible to ignore. The suspense is topped with explosive chemistry between the main characters that had the pages sizzling. And the characters were quite well developed too. I loved the multifaceted development that Rafferty used, letting us get to know them individually, as a pair, and through each others' eyes.
This was definitely a suspenseful, emotional, exciting introduction to Rafferty's work for me. I'll definitely be looking for more in the future.