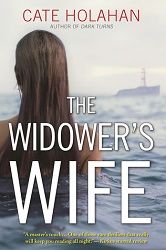 Title:
The Widower's Wife
Author:
Cate Holahan
Publication Date:
August 9th 2016 by Crooked Lane Books
Length:
304pgs
Genre:
thriller
Shelf:
review
My Rating: ★★★★ Book Links:
Goodreads
–
Amazon(US)
–
Amazon(CA)
-
B&N
-
Kobo
-
Indigo
-
Google Play
Back Cover Blurb:
Ana Bacon, a young housewife, tumbles off a cruise ship into the dark and deadly waters, but did she take her secrets with her?
Investigator Ryan Monahan is a numbers man. So when his company sends him the Bacon case, which could net a ten million dollar payout, Monahan doubts that her death is just a tragic accident. But the husband has a substantial alibi and a number of witnesses claim to have seen Ana fall. So the official ruling seems to be substantiated.
Still, the more Monahan uncovers about Ana's life, the more he realizes how many people would kill to keep her secrets hidden. And the closer he gets to the truth, the greater the odds grow that he, too, will take a fatal fall.
Cate Holahan looks at the dark underbelly of a marriage from the perspectives of the detective and the victim in her tense and enthralling page-turner,
The Widower's Wife
.
My Review:
Holahan has definitely created a suspenseful and thrilling novel with this one. The solidly developed plot creates an enviable and unforgettable read that I found myself caught up in. The fantastic descriptions, with a hint of darkness, really set the tone for this tale. The well-researched background really sets the stage for this suspense that will keep you on your toes.
The characters that Holahan develops are one of a kind and really fill the story well. I found myself really wanting to get to know them on a deeper level. The intricacies of the characters are unforgettable. This is a cast that you truly have to read about to get to know.
Once again Holahan has created a one of a kind thriller that you won't be able to forget. It's a fantastic read for those looking for a truly suspenseful tale.