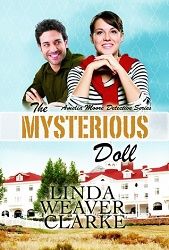 Title:
The Mysterious Doll
Series:
Amelia Moore Detective Series #4
Author:
Linda Weaver Clarke
Publication Date:
January 31st 2015 by Smashwords Edition
Length:
162pgs
Genre:
mystery
Shelf:
review
My Rating: ★★★★★ Book Links:
Goodreads
–
Amazon(US)
–
Amazon(CA)
-
B&N
-
Kobo
-
Indigo
-
Smashwords
–
Audible
Back Cover Blurb:
Amelia Moore, the founder of the Moore Detective Agency, specializes in missing persons. Her cases have taken her to some very interesting places and put her in some dangerous situations, but she always solves the case. With the help of her partner, Rick Bonito, the business is flourishing.
Pauline Jones is confused why her boyfriend took off without telling a soul where he was going. But that isn't all. Sam Whitaker is accused of stealing a valuable porcelain doll from the museum. His disappearance makes him look guilty, but Pauline is convinced he is innocent. When Amelia finds Sam, she realizes they need to prove his innocence. Where is the antique doll and who has taken it?
My Review:
Amelia Moore strikes again! Along with her always unforgettable sidekick, these two took me on a journey that I'll never forget. I love how this author melds mystery with real life. Her seamless storytelling allows us to get to know her characters up close and personal as they work together, battling danger and piecing the mystery together.
I love the bucket list concept that Amelia and Rick have going. Every spare moment that they have they use to help the other achieve their goals. It's great for both their personal and professional relationships. I also enjoyed the slow growth of their personal relationship. It really added a lot to the tale for me.
Once again Weaver Clarke has created a mystery that had me trying to unravel each and every aspect of it as the characters drew me in. This series has definitely captured my attention and the characters will always have a place in my heart.