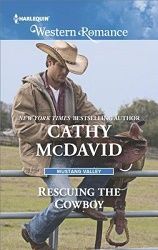 Title:
Rescuing the Cowboy
Series:
Mustang Valley
Author:
Cathy McDavid
Publication Date:
October 1st 2016 by Harlequin Western Romance
Length:
224pgs
Genre:
contemporary romance
Shelf:
review
My Rating: ★★★★★+ Book Links:
Goodreads
–
Amazon(US)
–
Amazon(CA)
-
B&N
-
Kobo
-
Indigo
-
Google Play
Back Cover Blurb:
WRONGED MAN. RIGHT WOMAN?
After three years of wrongful imprisonment, Quinn Crenshaw is ready to rebuild his life and find the daughter he has never met. A job training horses at his cousin's Arizona cattle ranch becomes something wonderful when Quinn meets Summer Goodwyn and her special-needs little boy. The single mother believes in him…and is raising this former rodeo champion's spirits sky-high!
The equine therapy program is helping Summer's young son connect with others—including one super-attractive rancher determined to be a father to his own little girl. Despite the obstacles in their path, can she make Quinn see they have a future worth fighting for?
My Review:
This is a wonderfully emotional novel. McDavid tackles some very tough subjects, bringing them to life in such a magnificent manner. The intricately woven plot never stops, allowing readers full access to the heart stopping romance that develops throughout. Picturesque descriptions paint this world for readers, allowing for full access to a wonderfully complex world.
My heart broke for both Summer and Quinn, both for their individual trials and for the hardships facing them together. At the same time, I absolutely loved Quinn's outlook on certain things. He had a way of seeing what was going on under the surface, and the way that he dealt with Summer's son absolutely melted my heart. These two characters come to life in such a magnificent way that they will have a place in my heart for a long, long while.
McDavid lights this ranch up with romance and lives well worth living. This novel is the best and most captivating of the series and a must read for all lovers of western romance.