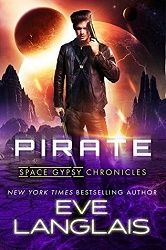 Title:
Pirate
Series:
Space Gypsy Chronicles #1
Author:
Eve Langlais
Publication Date:
August 25th 2016
Length:
280pgs
Genre:
SciFi Romance
Shelf:
own
My Rating: ★★★★★ Book Links:
Goodreads
–
Amazon(US)
–
Amazon(CA)
-
B&N
-
Kobo
-
Indigo
-
Google Play
Back Cover Blurb:
Earth: a space pirate's dream when it comes to booty, but not a good place to hide when bounty hunters come looking. Pulling up stakes means Rafe must leave his vintage trailer behind, but in the process he acquires a passenger, a mouthy female who seems to think she's calling the shots.
She'll soon learn who's the captain. And it isn't Annabelle, his sassy ship.
A true red-blooded male, Rafe does his best to teach Emma her place in the universe, but her human attitude gets in the way. So why doesn't he sell her when he gets the chance?
Damned if he knows, but despite his motto of 'The Universe Revolves Around Me', he finds himself putting his life in peril to save hers. But that doesn't mean he's letting her in on all his secrets. Some things a man has to carry alone, and some revelations a pirate will kill to keep.
The universe might be out to get him, but he's not giving in without a fight.
My Review:
What a spectacular launch to this series! I couldn't put it down. Between world building and plot twists I was glued to the pages and enjoyed every minute of it. This novel was action intensive yet still fun and light-hearted. Langlais balances the best of both to create a universe that I'm dying to travel in. The character intensive plot allowed me to experience the different cultures while getting to know the basis for what promises to be a fantastic series. The intricate world building was phenomenal, filled with fantastically vivid descriptions. The mystery that begins to unfold has me guessing left right and centre.
As always, Langlais' characters are vibrant and unforgettable. The animated back and forth between them really pulled me in. I love how loud and in your face they both were at all times. His cockiness and her refusals came together to have me laughing throughout. The collision of cultures and personalities was priceless. All the while, Langlais developed these two as well rounded individuals that I truly enjoyed getting to know and couldn't get enough of.
Not only did I thoroughly enjoy this novel while reading it, I'm also still thinking about it now and dying to know what happens next. Langlais has launched her new series with a flair only known in other galaxies.