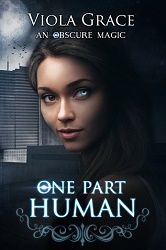 Title:
One Part Human
Series:
An Obscure Magic #1
Author:
Viola Grace
Publication Date:
May 1/15
Length:
113pgs
Genre:
paranormal romantic suspense
Shelf:
own
My Rating: ★★★★★
Book Links:
Goodreads
–
Amazon(US)
–
Amazon(CA)
-
B&N
-
Kobo
-
Indigo
Back Cover Blurb:
Forced into a one-week ride along with agents of the XIA, Benny tries to hide the fact that she isn't quite human.
Benny has lived her life in the shadows, avoiding the public eye. Her life as a recipe blogger pays the bills and lets her socialise, but she is about to get the assignment of a lifetime.
Her boss orders her into a one-week ride-along with agents of the XIA, the eXtranormal Investigation Agency. It is the anniversary of the agency, and they need to improve their exposure with the general public.
Against her objections, she is paired with a standard set of agents—a vampire, a shifter and a fey. They are willing to work with her, and it is only when she signs the waivers that she learns why. They all read her column.
A week doesn't seem like much time to learn about an organisation that deals with things most folk don't enjoy thinking about, but it whips past when the assignments go from casual crime to murders that have one pivot point. Benny.
My Review:
Grace is one of those authors who makes a story fun and entertaining while also creating an in-depth story that will keep you hooked to the pages from cover to cover. Her vivid descriptions bring this novel to life in an unparalleled manner. The world building allowed me to walk alongside the characters as the exciting plot unfolded.
The characters that Grace has created for this story are fantastically developed and so very real. I love the differences in personalities, yet how the team meshed together seamlessly. I won't say to much about them as it will spoil the story for other readers, but take it from me, this cast definitely made the tale shine.
This story may have been short and sweet but it was well worth reading. Grace's seamless writing and intrinsically entertaining world building has created something that must be read and that launches this series with a flair that won't soon be forgotten.