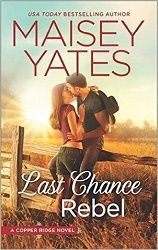 Title:
Last Chance Rebel
Series:
Copper Ridge #6
Author:
Maisey Yates
Publication Date:
September 1st 2016 by HQN Books (first published August 30th 2016)
Length:
384pgs
Genre:
contemporary romance
Shelf:
Netgalley
My Rating: ★★★★
Book Links:
Goodreads
–
Amazon(US)
–
Amazon(CA)
-
B&N
-
Kobo
-
Indigo
-
Google Play
-
Audible
Back Cover Blurb:
The prodigal son of Copper Ridge, Oregon, has finally come home
The man who ruined Rebecca Bear's life just strolled back into it with one heck of an offer. Years ago, Gage West's recklessness left Rebecca scarred inside and out. Now he wants to make amends by gifting her the building that houses her souvenir store. Rebecca won't take Gage's charity, but she's willing to make a deal with the sexy, reclusive cowboy. Yet keeping her enemy close is growing dangerously appealing…
He's the wild West brother, the bad seed of Copper Ridge. That's why Gage needs the absolution Rebecca offers. He just didn't expect to need her. After years of regretting his past, he knows where his future lies—with this strong, irresistible woman who could make a black sheep come home to stay…
My Review:
This story is hard hitting and poignant yet thoroughly romantic. It will make you swoon. It will tie your emotions in a knot while also allowing you to laugh at the intrinsic fun in life itself. Yates' fantastic descriptions shine through bringing the world to life as the plot unfolds page by page.
I get why Rebecca's angry, but the constant 'woe is me, you should pity me' got old. That said, I truly enjoyed getting to know her better as she finally came to accept her life and how it could be, if she'd only let it. I loved seeing her grow & change as she comes to accept herself and those around herself. Gage, on the other hand, was a whole other kettle of fish. His strength yet need to be on his own was a unique mix. He's one of those characters that takes a while to really figure out but that you can't help but swoon over at the same time. He just emanates an aura that you can't miss.
Once again Yates has created a novel that was a whole lot of fun while also being emotionally engaging. The romance and chemistry will keep you hooked while getting to know the characters will leave a lasting impression.