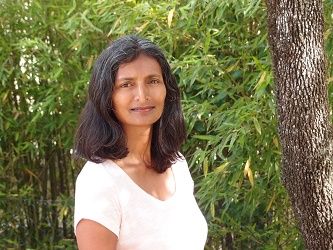 Q ~ Can you tell us a bit about yourself?
Sure, and thank you for asking!
As a child I wanted to be an astronaut. Then I wanted to be a scientist. I was always a day dreamer.
I worked with, and for, vulnerable people and those in crisis for many years.
I've lived in several countries as an adult – Norway, the USA, the UK, and at the moment I live in France.
Q ~ If you were stuck on a deserted island, who and what would you want with you and why?
I think I'd just let everything go and live as a hermit with nothing. I once took part in a meditation retreat and I'd try to recreate that type of experience where I simply existed with nature. If I took books and music and things like that it would remind me too much of the things I was missing.
Q~ Who is your favorite literary villain and why?
My favorite literary villain is the character of Death as it is portrayed by Terry Pratchett in his Discworld series. In these, Death has a cutting, wry sense of humour and his remarks are pure genius.
Q ~ Are there any new (or new to you) Authors that have grasped your interest recently and why?
There are two authors I've wanted to read for a while and I started both of them this year and both of them have turned into favourites - Tom Rob Smith and Karin Slaughter. They are both suspense and thriller writers and they are both really good.
Q ~ List two books you've read more than three times.
I haven't read any books three times, but I've read a few books twice. The one that springs to mind is The Color Purple by Alice Walker which I first read about twenty years ago and read again recently. It was well worth it – I had a very different perspective on the story this time around.
Q ~ How did you begin writing? Was there a single catalyst or a series of events?
I've always enjoyed inventing stories, and I suppose I've been writing off and on since age fifteen. I won a story writing competition at that time (at my school) and it boosted my confidence in the idea that I could write.
This never developed into a career, instead I spent many years in another profession. Then, after the birth of my second daughter (I have two daughters), I had a massive period of creative passion. Maybe it's because I was spending so much time in the house for a few months, or the effects of the childbirth, or the frustrations of having two small children to look after! – I don't know -but I can tell you something kicked off. I wrote pretty much every day, quite manically.
One of those ideas turned into a children's story but was never published. Many of the other ideas changed into short stories and poetry which were published on-line by a writer's cooperative that I belonged to at that time. People started telling me that I could, and should, write a novel. That's when I found my niche in mystery and suspense and I wrote several short stories in this genre, and then I started writing seriously about three years ago and finally focused on writing Good Girl Bad Girl.
Q ~ Do you have any writing rituals that you follow? What is your go-to snack while writing?
I need peace and quiet to write so the house has to be quiet or, better still, empty. The only company I can stand is the cats. Bagel with butter or with butter and cheese.
Q ~ You get a brilliant phrase/idea/thought at an inopportune time (while driving, drifting off to sleep/in the shower). What do you do?
I write it down immediately! That's why I have a little notebook that I keep with me, and if I don't have it, then I'll use any scrap of paper that comes to hand.
Q ~ Can you tell us a little bit about your latest release and what inspired you to write it?
A stalker. A pact. A deadly secret.
Kal's got guts. She's got determination and the skills to maybe pass under the radar. But has she got what it really takes to face the truth?
My inspiration was the idea of a young woman who has a dark secret. We all have secrets, don't we? And in this story it's not Kal's fault. She was born into it. And now she must struggle with it.
Q ~ What is your favourite part or scene in the novel?
One of my favourite scenes is the one in the library, when Scott and Greeves attempt to coerce Kal to stay silent. She is so tempted to take that white slip of paper. That little slip will answer all the questions that have tormented her for years…
Q ~ What are you working on next?
I've just started working on the second book in the Kal Medi series. I'm not going to tell you much about it because I don't want to spoil Good Girl Bad Girl for you, but if you'd like to know a bit more, you might like to join my Reader's Group (you can find details on my website). I'll be keeping in touch with them from time to time about Kal Medi #2.
Q ~ If you could give aspiring authors one piece of advice, what would it be?
My main advice is to keep going and to keep writing. There are many sources of advice and support online – writing circles, critique groups, discussion forums – join some of them, contribute and listen in – they will help you more than you realise.
About the author:
Ann Girdharry was born and educated in the UK. A trained psychotherapist, she has worked for many years as a manager in the not-for-profit sector, for agencies working with: carers, vulnerable older people and those with dementia, survivors of abuse, and victims of racism and racial attacks. Today, she lives in Montpellier, France with her husband and two children.
Find out more about Ann Girdharry:
website
-
Twitter
-
Goodreads
About Good Girl Bad Girl:
A stalker. A pact. And a deadly secret. How far must Kal go, to face the truth and find her missing mother?
A new, dangerous, psychological suspense thriller
Kal is twenty-eight years old and she's no fool, though sometimes she might pretend to be, because hiding her strengths is a great way to extract information.
An expert in psychology and skilled in reading other people and their behaviours, she first learnt her craft from her deceased father. He was a man with dark secrets.
When her journalist mother goes missing, Kal investigates. A shadow's been stalking her family for three generations. Kal will uncover a child trafficking network and to find her mother, she must face her deepest suspicions and a dread she's been avoiding all her life…
Good Girl Bad Girl is a Readers' Favourite Five Star book and an intense, psychological thriller.
It's the first in the Kal Medi series.
And now,
enter to win 1 of 3 ecopies of Good Girl Bad Girl by Ann Girdharry
Contest is open internationally, where applicable by law.
Entries close at 11:59pm August 19/16.
Winners will be drawn August 20/16.
Winners will be notified via email to the email provided to the giveaway and will have 72h to claim their prize or another winner will be drawn.