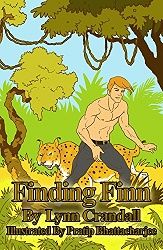 Title:
Finding Finn
Series:
Fierce Hearts
Author:
Lynn Crandall
Publication Date:
July 16/16
Length:
30pgs
Genre:
paranormal romance
Shelf:
review
My Rating: ★★★★★
Book Links:
Amazon(US)
–
Amazon(CA)
Back Cover Blurb:
A short story loosely connected to the Fierce Hearts series' were-lynx colony.
Asher Monroe's younger brother Finn has never had any trouble accepting his human identity despite Asher's extraordinary were-lynx abilities and rich life with the colony. In fact, Finn loves his life as a research scientist and living on his own terms. But when a disease that is targeting were-lynxes brings a group of violent were-lynxes to town to threaten his research partner, Nissa Bello, his life is changed forever.
My Review:
Once again Crandall has created a vibrant and fast paced tale that easily held my attention throughout. I really enjoyed getting to know these characters and how they fit in with her shifter world. This unique look is a fantastic introduction to this world and will definitely leave you wanting to get to know them so much better. It is such a sweet tale that I simply fell in love.
This was a fantastic companion tale to Crandall's Fierce Hearts series. It was an absolute blast to read and really highlighted the other side of the story for me.