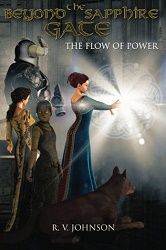 Title:
Beyond the Sapphire Gate
Series:
The Flow of Power #1
Author:
RV Johnson
Publication Date:
March 8th 2015 by Lost in New World Publishing
Coming into her power in adulthood, Crystalyn activates a curtain of darkness between a pair of sapphire obelisks with a travel symbol. Her younger sister Jade, the one person she cares most about having raised since their mother's disappearance, touches the gateway and vanishes. Crystalyn follows, developing her strength in a land where strife, warfare, and magic use are rampant.
The search for Jade grows ever desperate as Crystalyn learns each use of magic is killing her, her mind deteriorating. Though a political Circle of Light made up of mystic users, a Dark Citadel of warlords, and a Hundred Season war block the way; she must go on.
Time is fast flowing away from both her and Jade; with far more at stake than they both realize.
My Review:
This intricately built world and characters who come to life from the very beginning of the novel. This story is intensely captivating and fast paced, drawing you in and keeping you from escaping. Literature is always magical, but here, the magic of literature literally comes to life. With this novel you find yourself walking through a fantasy world beyond compare. It's astounding. Johnson is a show, not tell, type of author. You don't read this story, but rather watch the story unfold before you. He paints a brilliant picture of his scenery.
And the characters that Johnson creates definitely do this story justice. They quickly become the type of individuals that you want to follow through the entire series.
This was definitely a great start to Johnsons' series. It's definitely sparked my interest and left me wanting to know what happens next.