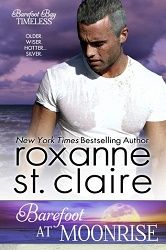 Title:
Barefoot at Moonrise
Series:
Barefoot Bay Timeless #2, Barefoot Bay Universe #17
Author:
Roxanne St. Claire
Publication Date:
August 2016 by South Street Publishing
Length:
304pgs
Genre:
contemporary romance
Shelf:
review
My Rating: ★★★★★ Book Links:
Goodreads
–
Amazon(US)
–
Amazon(CA)
-
B&N
-
Kobo
-
Indigo
-
Google Play
Back Cover Blurb:
As a firefighter, Captain Ken Cavanaugh knows his way around dangerous situations—but he'd rather run into a burning building than help plan his 25th high school reunion in Barefoot Bay. Unfortunately, it's his best chance of finally putting things right with Beth Endicott two and a half decades after they ended so badly. But the instant they see each other again, the years blow away like ashes in the heat of their combustible chemistry. For one single night, they let their incendiary passion consume them...but in the morning, they're still left with the smoldering wreckage of a relationship that ended in tragedy.
Raised under the thumb of a rich and controlling man, Beth has spent her adult years craving freedom. Now that she's finally managed to carve out an independent life, is she ready to risk her heart on the first man she ever loved—a man who blames her family for his father's death? With so much painful history between them, Beth can't see a way to have a future with Ken. But one stunning surprise will turn everything they ever believed upside down and send them straight into each other's arms.
Ken is willing to put everything on the line for the family he's always wanted, but Beth knows the past that ruined them could flare into heartache again. It will take all her newfound courage to prove she would walk through fire for this second chance with the love of her life.
My Review:
Talk about a story that is hard hitting with the ability to make you laugh. I love the way that St. Claire mixes comedy with romance. Everything is so real yet also has a very light-hearted feel to it. The descriptions bring this entire world to life, allowing readers to experience the tale to the fullest.
The characters were solid and easy to get to know. I really enjoyed the way that the relationship built between them. The maturity level of the characters was also an added bonus. Their life experiences played into their every day events allowing me to get to know them on every level. And St. Claire didn't stop her character development with the main characters. Readers get up close and personal with the supporting cast, giving a well-rounded feel to the tale.
This was a fantastic addition to St. Claire's Barefoot Bay universe. The tale was fun and emotional and very romantic.