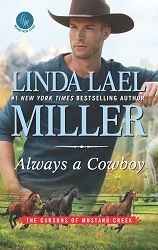 Title:
Always a Cowboy
Series:
The Carsons of Mustang Creek #2
Author:
Linda Lael Miller
Publication Date:
September 1st 2016 by HQN Books
Length:
384pgs
Genre:
contemporary romance
Shelf:
review
My Rating: ★★★★★ Book Links:
Goodreads
–
Amazon(US)
–
Amazon(CA)
-
B&N
-
Kobo
-
Indigo
-
Google Play
Back Cover Blurb:
He's the middle of the three Carson brothers and is as stubborn as they come—and he won't thank a beautiful stranger for getting in his way!
Drake Carson is the quintessential cowboy. In charge of the family ranch, he knows the realities of this life, its pleasures and heartbreaks. Lately, managing the wild stallions on his property is wearing him down. When an interfering so-called expert arrives and starts offering her opinion, Drake is wary, but he can't deny the longing—and the challenge—she stirs in him.
Luce Hale is researching how wild horses interact with ranch animals—and with ranchers. The Carson matriarch invites her to stay with the family, which guarantees frequent encounters with Drake, her ruggedly handsome and decidedly
un
welcoming son. Luce and Drake are at odds from the very beginning, especially when it comes to the rogue stallion who's stealing the ranch mares. But when Drake believes Luce is in danger, that changes everything—for both of them.
About the author:
The daughter of a town marshal, Linda Lael Miller is the #1 New York Times and USA TODAY bestselling author of more than 100 historical and contemporary novels, most of which reflect her love of the West. Raised in Northport, Washington, the self-confessed barn goddess pursued her wanderlust, living in London and Arizona and traveling the world before returning to the state of her birth to settle down on a horse property outside Spokane.
Linda traces the beginning of her writing career to the day a Northport teacher told her that the stories she was writing were good, that she just might have a future in writing. Later, when she decided to write novels, she endured her share of rejection before she sold her first title to a publisher in 1983. Linda then successfully published historicals, contemporaries, paranormals, mysteries and thrillers before coming home, in a literal sense, to concentrate on novels with a Western flavor. For her devotion to her craft, the Romance Writers of America awarded her their prestigious Nora Roberts Lifetime Achievement Award in 2007. In 2016 Linda will receive a Lifetime Achievement award from RT Book Reviews. Currently the Hallmark Movie Channel is developing a series based on Linda's Big Sky Country novels.
For more information about Linda and her novels, please visit lindalaelmiller.com.
My Review:
Miller brings the West to life in her usual, stunningly picturesque manner that will have you walking alongside the characters and falling head over heels in love. The intimately intricate plot drew me in, allowing me to live this fantastically romantic story rather than simply read it.
Miller definitely had me in tears with this one. Tears of laughter that is. Her unforgettable characters came together in such remarkable ways, allowing me to experience all aspects of what makes them who they are. The dynamics between them were so real that I couldn't help but laugh at the antics that arose between them. I loved the different aspects of Drake's character. He is the ultimate cowboy. The perfect mix of modern and old fashioned. Luce was a great addition to this family. She was the fun and act 1st, think later that made a fantastic counterpoint to Drake's steadfastness.
Miller has once again created a novel that will be loved by readers time and time again. She has definitely proven that she writes the book on western romance.