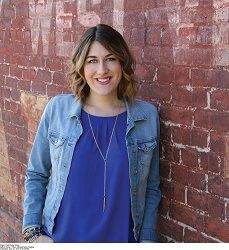 1. Is there anything in your new release based on real life experiences or purely all imagination?
Well, I'm not in the habit of going to Vegas to get married, but I think there are always emotionally elements in my stories that I borrow from real life. Even if it's just the feeling of wanting to feel successful, like Lydia. Or wanting to do the right thing for those around you, like Colton.

2. The Cooper Ridge series always have beautiful covers, which one would you say is your favorite if you had to pick one?
That is SO hard. But I do think my favorite cover is Tough Luck Hero. I wrote a whole scene into the book after seeing the cover, and it became one of my favorites, so that cover LITERALLY inspired some of the story. But it's followed closely by Brokedown Cowboy and Last Chance Rebel!

3. What was your favorite scene to write in Tough Luck Hero?
There are a couple scenes between Lydia and Sadie, the heroine from Part Time Cowboy that I loved writing, because in Part Time Cowboy they both like the same guy, and in this book they've become friends, and I really like that progression. But mostly…Lydia and Colton getting it on on Lydia's campaign pamphlets. That still makes me laugh.

4. How much research goes into your books?
I'm a big believer in Google As Needed. If I need to know something, I check into it, but I don't do too much in depth research because then I feel like the temptation is to put too much information into the story, and it has the danger of overshadowing the romance.

5. What's your favorite love story?
Fiction or non-fiction. That's an incredibly tough question. Right now I think my favorite romance is Seduce Me at Sunrise by Lisa Kleypas.

6. What are some of your favorites words and why?
I think the word vole has great comedic properties. It's both an adorable mammal and an unexpected word choice. And yes, I find reasons to use it in books often.

7. How important are names to you in your books? Do you choose the names based on liking the way it sounds or the meaning?
In a long running series names are a whole thing. Some people who were background characters end up coming to the forefront, and they're already named and not necessarily possessing a name I would have chosen if I'd created them thinking they would get their own book.

Then with the sibling groups I want them to sound like they were all named by the same parents. I tend to go with sound over meaning, except in rare cases.

8. If you had your own talk show, who would your first three guests be?
Dierks Bentley, Sam Hunt and Chase Rice. That was way too easy.

9. What are you working on now? What is your next project?
Right now I'm wrapping up my next Copper Ridge Desire, then I'm moving on to another full length Copper Ridge novel. The hero in this one is a single dad, and I'm excited to write that since it's something I haven't done in this series yet.

10. Any fun summer plans?
I'll be at RWA in San Diego in July, and on the way there I'm stopping at Disneyland which is definitely MY happiest place on earth. I can't wait!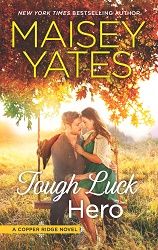 Title:
Tough Luck Hero
Series:
Copper Ridge #6
Author:
Maisey Yates
Publication Date:
June 28th 2016 by HQN Books
Length:
384pgs
Genre:
contemporary romance
Shelf:
review
My Rating: ★★★★★ Book Links:
Goodreads
–
Amazon(US)
–
Amazon(CA)
-
B&N
-
Kobo
-
Indigo
-
Google Play
–
Audible
Back Cover Blurb:
Can the golden boy of Copper Ridge, Oregon, get a second chance at happy-ever-after?
Ranching heir Colton West knew his wedding would be the talk of the town. But he didn't expect to get left at the altar—or to escape on the next flight to Vegas with Lydia Carpenter, the woman who gets under his skin like no one else. The only thing crazier than honeymooning with Lydia is waking up married to her. So why does he find himself entertaining his new wife's desire to stay married—and fantasizing about a real wedding night?
As Copper Ridge's prospective mayor, Lydia can't risk a divorce scandal so close to election time. But pretending to be blissfully in love with her new husband is more confusing than she'd thought. For a man who's always rubbed her the wrong way, Colton suddenly seems to know exactly what to do with his hands. And his lips. Now Lydia's wildest mistake could turn out to be her luckiest move, if they're both willing to take the ultimate gamble…
My Review:
This novel was priceless from the get-go! Yates had me laughing & near tears throughout. Yates' vibrant writing shines throughout. I could feel the turmoil and turbulence of the characters' feeling throughout. At the same time, the excitement of the story and the chemistry between the characters is also prominent. The plot was emotional, comical, and poignant all at once, creating a complex tale that I couldn't get enough of.
I love the insights into Colton & what makes him tick. I found myself dying for a deeper understanding of what made Lydia tick. When she finally opened up to Colton about her family I was both floored & rewarded. Together, these two were not only heartfelt, but also explosive. Seeing them come to grips with their new equilibrium and relationship was an absolute blast. Seeing both of these two ridged people gobsmacked by their emotions was powerful.
Once again Yates has penned a novel that kept me coming back for more time and time again. It was a fantastic read that I could barely put down. It could easily be read on its own but is also an absolutely unforgettable addition to this series.