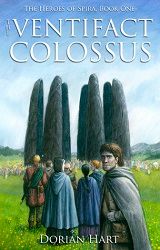 Title:
The Ventifact Colossus
Series:
The Heroes of Spira #1
Author:
Dorian Hart
Publication Date:
January 8th 2016 by Jester Hat Books
Length:
344pgs
Genre:
fantasy
Shelf:
review
My Rating: ★★★★ Book Links:
Goodreads
–
Amazon(US)
–
Amazon(CA)


Back Cover Blurb:
A tale of epic fantasy begins…
Banished to an otherworldly prison for centuries, the monstrous Emperor Naradawk is about to break free and wreak havoc upon the world of Spira. The archmage Abernathy can no longer keep the monster at bay, and has summoned a collection of would-be heroes to help set things right.
Surely he made a mistake. These can't be the right people.
Dranko is priest-turned-pickpocket, expelled from his church for his antics. Kibilhathur is a painfully shy craftsman who speaks to stones. Aravia is a wizard's apprentice whose intellect is eclipsed only by her arrogance. Ernest is a terrified baker's son. Morningstar is a priestess forbidden from daylight. Tor is a young nobleman with attention issues. Ysabel is an elderly farm woman. Grey Wolf is a hard-bitten mercenary.
None of them are qualified to save the world, but they'll have to do. Even Abernathy himself seems uncertain as to why he chose them.
What starts with a simple scouting mission soon spirals into something more far-reaching and sinister. The heroes will contest with dream warriors, evil cultists, sentient gemstones, and a devious yet infuriatingly polite gentleman with a perfect mustache, on their way to a desperate encounter with the unstoppable: The Ventifact Colossus.
My Review:
This novel was both imaginative and unique. Hart has created a niche all of his own in which his intricate plot unfolds. He brings individuals and locales to live in turn. Hart has seamlessly combined the art of fantasy world building with multiple character perspectives to give readers a full sense of the tale as it unfolds. I loved seeing things from multiple points of view while also getting in-depth sneak peeks into certain events. The manner in which the different lives merge and diverge gives a flowing feel to the tale.
The characters were also very well put together. I loved how I had different reactions to each of them based on their varying personalities and feats. The way that they come together on their quest yet still remain individuals was fantastic.
All in all, this was a great start to Hart's series. The world comes to life in vivid clarity as the characters wind their way into your life through their unique stories.