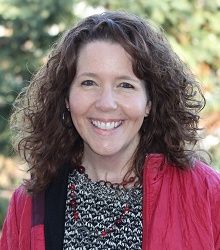 The Perfect Setting for Romance ~ Kate Carley
I've been asked countless times why I chose to set my new romance series in northern Minnesota. I think most people believe that Minnesota is encrusted in glacial snow and ice all year long. Basically, frostbite waiting to happen. And let's face it, there's nothing romantic about that!
But here in Minnesota, residents long to go up north. It's a rather peculiar behavior given that we battle extreme weather conditions seven-point-five months out of the year. During those long blustery months, we eagerly wait for spring, which lasts about two seconds, and then bam—summer! And it's time to hit the road and travel northward again.
Call it a weird quirk here in the great state of ten thousand lakes. Although I'm sure our neighbors in Wisconsin, Iowa, the Dakotas, Manitoba, and Ontario could make quite a list of Minnesota's other idiosyncrasy—can anyone say hotdish?—but that will have to wait for another post.
So, why go to northern Minnesota? Isn't the state itself north enough?
One would think so, right?
But in my house, it's become our family tradition every summer—going up north. We often visit family's and friend's lakeshore properties, and we always spend a week at a family-owned resort. We rent a cabin tucked beneath the branches of towering shade trees and relax on the deck overlooking the cool, blue water.
You see, the northern half of the state is dotted with these incredible lakes, ponds, and streams all hidden in deep woods with a spectacular mix of deciduous and conifer trees. It really is lovely, especially following the deep freeze of winter where everything is draped in a blanket of blinding white.
But my favorite part of northern Minnesota: the small towns. I didn't grow up in a small town, but I love exploring those quaint communities on our annual voyage northward. We stop to take in the atmosphere and wander through the little shops that line both sides of Main Street. We sample the local fare at one of the many hometown cafés along the way. And if our timing is just right, we enjoy the town's annual festival, complete with fireworks.
Basically, I'm in love with the idea of living in a small town. It seems homey, like growing up in the 'burbs during the '70s. Parades and potlucks. Cones at the ice cream parlor on the corner. The local bar where you're not just one in a sea of thousands. There is an overwhelming sense of community, belonging, and caring.
Of course, there's a downside when everyone knows your name. The busybodies and gossipers know exactly who did what and with whom—there's really no place to hide, is there? And for those single guys and gals? Well, let's just say that the pickings can be mighty slim.
Perhaps that's why romance novels seem to thrive in those small-town settings. It's as if the characters are primed for
the one
to walk into their lives. They're ready for their hearts to beat just a little bit faster. They're prepared to jump in and claim their chance at love, knowing full well that if they don't grab what's in front of them, they might never have the opportunity again.
So it only made sense to me when I started plotting my new book series, Changing Krysset, that I set it in a sleepy little resort town deep in the north woods of Minnesota. Just like many communities in that region, Krysset has all the requisite storefronts along Main Street. From Lydia's Café to Ferris Steakhouse. There's Juliana's Boutique, Krysset Apothecary, and of course, the Brawling Bear Bar and Grill. And all those shops surround a quaint little park with a white gazebo standing in the center.
Another iconic destination in downtown Krysset is Annie's Bakery where Annie's famous chocolate cake is all the rage. My good friend, Kara, at
Sorghum and Starch
provided the recipe for Annie's chocolate cake. While Kara is gluten free and blogs many recipes for a gluten-free diet, this cake is not. So whenever she whips one up, it lands in my kitchen. She's always sharing her delicious creations with my family, and Annie's famous chocolate cake is truly a favorite in our home.
Coincidentally, it's Jackson Cooper's favorite, too. He's my hero in
Challenged
, book 1 of the Changing Krysset series, which is Jackson and Sophie's love story. And I'm super excited to announce that Consumed, book 2 in the series, will be out on September 30, 2016, and is available now on pre-order at Amazon. It's all about Ethan and Danielle and their journey to find love. And just like
Challenged
,
Consumed
is filled with a sweet romance, steaming hot love scenes, and heart-pounding suspense.
Romance, it seems, can be found in just about any location—including a resort town nestled along the beaches of a brisk lake in northern Minnesota. And with ten thousand lakes, there's definitely a lot more stories to tell.
About the author:
Of course, Kate hails from Minnesota—born and raised. She'll admit that she took a meandering path to get to the point of published indie author, including a short stint in the IT world and a really long stint as a home schooling mom. Now that her four kids are off writing their own adventures, Kate is free to drift along in her own fictional world, plotting the rise and fall of her characters in Krysset. She's got two more books on the horizon.
Chased
, book 3, and
Changed
, book 4. Both will be available in 2017.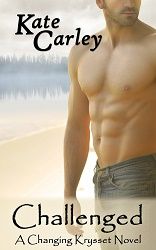 About Challenged:
One devastating lie set the course for Sophie Lancaster's life. Can one earth-shattering phone call change it?
Jackson Cooper certainly hopes it won't—at least not permanently. For the past twenty-one years, Sophie has avoided coming home and now has the nerve to show her face, purely for the reading of her grandfather's will—that thought alone is enough to have Jackson grinding his teeth in molar-cracking frustration.
But Grandpa Ray's final request, a life-changing challenge to save the family's resort, pairs Jackson with this woman who makes his blood boil—in more ways than one.
With Jackson's vow to honor his dear friend and Sophie's promise to prove her worthiness to a grandfather she barely remembers, they set off on a yearlong adventure.
Can they learn to work and live together, forging a new bond built on respect and a common goal? Can they rely on each other without giving into their growing desires?
Just as the sizzle of attraction between them heats up, the challenge becomes a dangerous and deadly game when outside forces threaten their resort, their budding relationship, and their very lives.
With their future hanging in the balance, will they survive the challenge?
Find it on
Amazon
.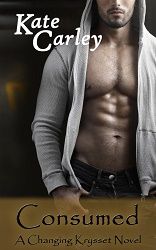 About Consumed:
Thirty-seven minutes after midnight.
Like clockwork, an exquisite stranger sashays into his bar, orders up a shot of Jack Daniel's, and stirs up his curiosity— not to mention his libido. Awaiting the arrival of this mysterious woman, night after night, has Ethan Bearbower growling in frustration.
Or maybe it's her hasty retreat after slamming the whiskey that's driving him crazy. Lord knows her choice of attire isn't improving his condition in the least—one night she's dressed like a shy, sweet nymph, and the next, a seductive dominatrix.
No wonder he's going out of his mind.
But once Ethan uncovers her true identity, his inquisitiveness morphs into a protective streak he can't seem to control. Consumed by this unusual fascination for a woman he's just met and his need to keep her safe, Ethan struggles to reconcile his long-held beliefs with his mounting emotions.
Danielle is searching for the truth, and she's not going home until she's satisfied. But before she can unearth the answers to her biggest questions, she discovers a sexy man who just might derail her quest.
As their romance heats up, Danielle's unrelenting search brings life-or-death danger to her doorstep.
Can Ethan save her before it's too late?
Find it on
Amazon
.