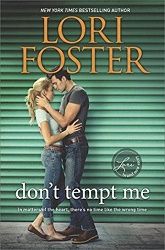 Title:
Don't Tempt Me
Series:
Guthrie Brothers #1
Author:
Lori Foster
Publication Date:
August 1st 2016 by HQN Books (first published July 26th 2016)
Length:
352pgs
Genre:
contemporary romance
Shelf:
netgalley
My Rating: ★★★★★ Book Links:
Goodreads
–
Amazon(US)
–
Amazon(CA)
-
B&N
-
Kobo
-
Indigo
-
Google Play
–
Audible
Back Cover Blurb:
Love comes along when it's least wanted
Jason Guthrie has no time for entanglements—between helping out his widowed brother and teenage nephew and getting his hometown back on its feet, his days are spoken for. But his nights are another story… And when his lovely new neighbor, Honor Brown, reluctantly accepts his help in remodeling her house, Jason finds himself wishing his handyman skills could knock down the defenses she keeps building around herself.
Martial arts teacher Sullivan Dean knows real danger when he sees it—even when it takes the form of the gorgeous blonde helping her friend move in across the street. After putting his wayward past behind him to focus on teaching control to troubled kids, Sullivan has learned to avoid party girls like Lexie Perkins. But Sullivan can't seem to keep his hands off the real woman behind that flirty charm—or keep his heart from landing at her feet…
My Review:
Foster is a go to author for me. Her novels are ones that I pick up when I want something tantalizing that I can curl up and loose myself in. This novel definitely fits that bill. It's cute with a small town charm and a whole lot of emotion. It was emotional draining at times, and absolutely fantastic throughout. The story was exciting and fulfilling, allowing me to escape from reality and into the pages. I won't go into too much detail here, but I will say that this is a must read novel.
Foster's descriptions bring the characters to life in every possible way. I felt for Honor without pitying her. What she'd been through in her life was more than anyone should ever have to handle on their own. The way that she thinks that she can't show emotion in order for people to like her broke my heart. Jason was so understanding throughout it all, his strength and compassion allowing Honor to gradually accept him. I loved how naturally these two fit together. On the other hand, Sullivan & Lexie's whirlwind romance was equally captivating.
This was definitely a great start to a series that I'm dying to read more of. I wouldn't hesitate to recommend it to anyone, anywhere, who enjoys some heartfelt romance.