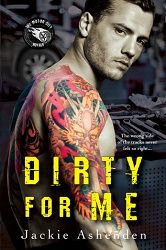 Title:
Dirty For Me
Series:
Motor City Royals #1
Author:
Jackie Ashenden
Publication Date:
July 26/16 by Kensington
Length:
288pgs
Genre:
contemporary romance
Shelf:
Netgallye
My Rating: ★★★★★ Book Links:
Goodreads
–
Amazon(US)
–
Amazon(CA)
-
B&N
-
Kobo
-
Indigo
-
Google Play
Back Cover Blurb:
Ezekiel "Zee" Chase has a complicated past. Born into a family whose wealth grew from the seedy world of big-time crime, he ran away as a teenager and made a home for himself on the streets of Detroit. By day, the mechanic works at a local garage. But by night, he throws down with the best of them in Detroit's gritty underground fighting scene. With all those muscles, he's never had trouble with women--until he meets one who challenges him to the greatest fight of his life. . .
Tamara Eliot is a hardworking corporate high-flyer who appreciates the finer things in life, from her expensive perfume to her designer handbags. More than anything, though, she likes to be in control--and when Zee explodes into her life, she feels anything but. He's the definition of a bad boy: brash, fiery, and of course, irresistibly hot. And there's a darkness about him that keeps her coming back for more. As Zee takes Tamara deeper into a world she never knew existed, she just might prove to be the one opponent he won't be able to dominate--at least not without some pleasurable convincing...
My Review:
From the epically drool-worthy pic on the cover to the very last sentence Ashenden had me completely captivated. From hard core fights to dark and dangerous men, this novel has it all; right along with a healthy dose of extra steamy chemistry and sex scenes that both add to the story and make the pages sizzle. This is all backed up by vibrant descriptions that allow you to both see and feel your surroundings. This is writing that really engages your senses.
The hard core characters really pop in this novel. The aura of both danger and safety that surround Zee had me drooling and glued to the pages. The hardness emanating from him makes it all even more tantalizing. At the same time, the hints of vulnerability make him oh so very real. Tamara's ability to bend yet to stand up for herself were remarkable. I simultaneously felt for her and wanted to cheer her on through her journey of self discovery.
This was an earth quaking, soul shattering start to a series that I can't get enough of. I definitely wouldn't hesitate to recommend it to others.