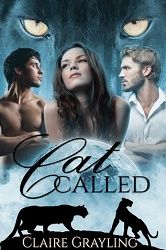 Title:
Cat Called
Author:
Claire Grayling
Publication Date:
June 7/16
Length:
162pgs
Genre:
paranormal romance
Shelf:
review
My Rating: ★★★★ Book Links:
Goodreads
–
Amazon(US)
–
Amazon(CA)

Back Cover Blurb:
Miranda Dawson is special. But she keeps it a well-hidden secret. All the better to blend in with her normal friends and her normal life. She's not blending in as well as she thinks she is, though.
And it gets her in trouble with two tattooed, muscular, way-more-handsome-than-they-have-any-right-to-be shifters who don't intend to let her go easily. Suddenly she's pulled into a crazy world where two growly, overprotective, alpha werepanthers are determined to claim her. Yes, that's right: claim her. Without so much as dinner and a movie, they're ready to mate for life and have cubs. And she's not even sure whether either of the assholes is actually nice enough for marriage material.
But maybe mate material is a different matter.
Damon Rourke and Ajax Parker are partners in crime. Literally. They never expected a gutsy, stubborn young woman to come between them. But they both want her, and no one is more jealous and possessive than a shifter with his true mate. Of course, there's no arguing with fate. But there's definitely no arguing with a burly, supernaturally strong werepanther who would kill without a second thought in order to defend his mate. Now, they're at each other's throats over which one of them is getting in Miranda's pants.
What if the answer is both of them? No...they definitely wouldn't fit. Not with the way curvy Miranda fills out her jeans. Besides. Shifters don't share. Do they?
My Review:
Grayling takes an interesting plot and ramps it up with a trio of characters with fantastic chemistry. I loved the way that the story played out and the world was developed. I was definitely kept on my toes with this one.
I loved the good guys and hated the bad guys in this story. There were such extremes between the characters that I couldn't help but be firmly on one side of the fence. At the same time, the characters were quite real. I loved each aspect of them and how it played into the story.
As a whole, this was a quick, hot read that I had a great deal of fun with. Grayling inserts enough chemistry to heat the story without overtaking the plot.