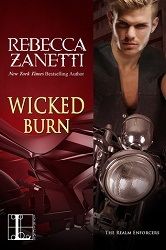 Title:
Wicked Burn
Series:
Realm Enforcers #3
Author:
Rebecca Zanetti
Publication Date:
June 7/16 by Lyrical Press
Length:
364pgs
Genre:
paranormal romantic suspense
Shelf:
Netgalley
My Rating: ★★★★★
Book Links:
Goodreads
–
Amazon(US)
–
Amazon(CA)
-
B&N
-
Kobo
-
Indigo
-
Google Play
Back Cover Blurb:
Simone Brightston knows she can beat the rap her enemies are pinning on her. An Irish witch is nobody's fool, and she didn't get to her position on the high council without serious power. But her cousins want her to hide out—and they somehow convinced her arch nemesis to play getaway driver.
Of all the men she's known, Nikolaj Veis is the hardest to intimidate. With his demon-dark eyes and his inscrutable beauty, he's as desirable as he is dangerous. And he knows better than to underestimate Simone. So when he pulls up on a roaring bike and tells her to climb on or fight it out, she grabs a handful of jacket and holds on tight. Running from the law may not be the smartest plan. But when it comes to Nick, hot pursuit and a blazing fast ride are exactly what Simone's looking for . . .
My Review:
This novel is fast paced, suspenseful, and intensely hot. The action packed plot kept me on my toes throughout while the complex relationship between the main characters captured my heart. The in-depth and creative world building allowed me to picture the entire story and see how it could happen right next door. The natural flowing dialogue made it all seem more real.
Alex was a blast and such a complex contradiction of soft and hard, protector and antagonist. His mix of brains and brawn was extremely attractive. I love how he stood up to Simone's looks. And how she was about so much more than just her looks. She did what she felt was right despite the consequences. I loved how important family was to everyone in this novel. It was an integral part of each character's personality yet developed in different ways.
Zanetti is an author who never fails to transport me out of the humdrums of everyday life and into the complexly fascinating world that she's created. This novel is a great read on its own and absolutely phenomenal as part of this series.