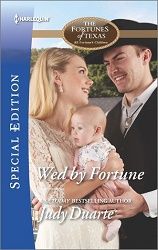 1) List two books you've read more than three times.
A Knight in Shining Armor by Jude Deveraux & Morning Glory by LaVyrle Spencer. I'd pick either of them up today and start reading all over again. If you want to know a third, I also love Jackson Rule by Dinah McCall/Sharon Sala.

2) Is anything in your new release based on real life experiences or purely all imagination?
I have a blended family. When I married my personal hero, I had four children from a previous marriage. My feelings for him were growing, but I knew a man would have to think long and hard about taking on a woman with kids. One day, while we were still in the dating stage, my six-year-old asked him, "Are you going to marry my mom?"

That subject had crossed my mind, but I hadn't uttered a word out loud to anyone. Would he think that I'd been talking about a big step like that? My cheeks blazed with embarrassment and fear that he'd turn tail and run.

But the child's innocent question didn't bother him at all. He lifted Jeremy to eye level and said, "The man who marries your mommy is going to be a very lucky man." When Jeremy scampered away, satisfied with the answer, I realized I'd met my personal hero. And I fell in love with him that day.

3) How much research goes into your books?
As much as I need for the story. In Wed by Fortune, I researched horse rescue operations, as well as the process for creating Premarin—Pregnant Mare Urine.

4) You get a brilliant phrase/idea/thought at an inopportune time (while driving, drifting off to sleep/in the shower). What do you do?

When I'm in my car, I use my Bluetooth, call home, and leave a detailed message for myself! If I'm drifting off to sleep, I've learned to get up and write it down before I forget. (But usually, those ideas come to me after a shower or early in the morning.

5) What do you like to do when you're not writing?
I like to travel with my personal hero. As we speak, I'm vacationing along Kaanapali Beach in Maui. I love walking in the mornings with my iPod and breathing in the fresh tropical air.

Since I'm an early bird by nature and I usually wake well before dawn. Then I put on a pot of Kona coffee and get some writing done before starting my day.

6) Where is one place you want to visit that you haven't been before?
A trip to Ireland and Scotland is definitely on my bucket list, although I hope to go within the next couple o years. While in Europe, I'd also like to go to Germany and to the Basque country, where I have family roots.

7) What does your family think of your writing?
They're very supportive and have learned to adjust to the craziness—the deadline madness and my creative side, which often causes my mind to drift off while they talk to me.

It's a good thing they've gotten use to dealing with my career since my daughter now writes as Christy Jeffries for Special Edition. Her fourth book is coming out in July, and I couldn't be happier—or prouder.

8) How do you decide on the setting of your book?
A lot of my stories are set in Texas because I love cowboys, horses, and country music. I had one series set in a small, coastal community near San Diego and I'm developing a new story that's set in a small mountain community in California.

9) What question do you wish that someone would ask about your book, but nobody has? Write it out here, then answer it.
Why do you enjoy writing a book in a continuity series like The Fortunes of Texas?

I love my job, but it can be lonely at times. When I'm under deadline and trying to get a manuscript polished and sent in on time, I'm often locked in my writing cave. But when I'm working on a series, especially the Fortunes of Texas, I have the opportunity to become a team with five other authors who are creative, talented professionals. It's fun to see the series come to life with everyone's input.

10) What is your favorite summer read?
I love reading Harlequin category romances, especially when I'm lying on the beach or flying. But I'll let you in on a secret. I can't resist a book by Jodi Picoult.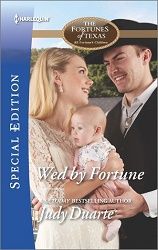 Title: Wed by Fortune
Series:
The Fortunes of Texas: All Fortune's Children #6
Author:
Judy Duarte
Publication Date:
May 24/16 by Harlequin
Length:
224pgs
Genre:
contemporary romance
Shelf:
review
My Rating: ★★★★ Book Links:
Goodreads
–
Amazon(US)
–
Amazon(CA)
-
B&N
-
Kobo
-
Indigo
-
Google Play
Back Cover Blurb:
You are cordially invited
to witness the courtship
of Graham Fortune Robinson
&
Sasha-Marie Gibault Smith
Graham has always thought of Sasha as his "little sister."
Sasha has always considered the rugged rancher out of her league.
Now that Sasha is all grown up, there is nothing keeping them apart… Except she has a daughter. An ex-husband. And a very noticeable baby bump. And the always proper Graham suddenly finds himself thinking very sexy thoughts about the sweet single mom!
Perhaps Fortune is finally smiling on Graham—in the form of the true love this rich, unencumbered cowboy has always longed for!
Excerpt:
Chapter One
Graham Robinson had spent the morning working up a good sweat, thanks to a drunken teenager who'd gotten behind the wheel of a Cadillac Escalade after a rowdy, unsupervised party last night.
The kid had apparently lost control of the expensive, late-model SUV and plowed through a large section of the fence at the Galloping G Ranch, where Graham lived. Then he left the vehicle behind and ran off.
Both Graham and the sheriff who'd been here earlier knew it had been a teenager because on the passenger seat a frayed backpack, as well as a catcher's mitt, sat next to an invitation with directions to a ranch six miles down the road.
Sadly, the same thing could easily have happened to him, when he'd been seventeen. That's why he and Roger Gibault, his friend and the owner of the ranch, were determined to turn the Galloping G into a place where troubled teenage boys could turn their lives around.
Back in the day, both Graham and Roger's late son had what Roger called rebellious streaks. Graham's dad, the patriarch of the famous Austin Robinsons—and an alleged member of the Fortune family—wasn't so open minded.
But after Peter's tragic death, things had changed. Graham had changed. Now, instead of creating problems for others to clean up, Graham was digging out several damaged posts and replacing broken railings.
My Review:
Duarte has created a setting that suits this novel perfectly, providing the perfect backdrop for her heartfelt novel. I love how she takes the setting for the series and continues to develop it, while also allowing new readers to picture everything. The plot develops naturally, never forced or lagging yet always entertaining.
I enjoyed how real the characters in this novel were. Readers can easily get to know them and relate to them while still experiencing a romance that provides an escape from reality. Their personalities were so genuine and fit the lives that they lead. I couldn't help but fall a little in love with our resident cowboy throughout, and his heroine fit him perfectly, without being too perfect. Not only that, but the relationship was natural. There was definitely chemistry between them, but there was also so much more.
Duarte has combined characters with heart and a story that will capture your attention with this one. It was a great, short read that I really had a lot of fun with. It is a fantastic beach read, or for a rainy day lounging on the couch.