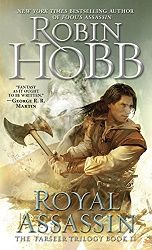 Title:
Royal Assassin
Series:
The Farseer Trilogy #2
Author:
Robin Hobb
Publication Date:
May 25th 2010 by Tantor Audio (first published April 1996)
Length:
675pgs / 29h17min
Genre:
fantasy
Shelf:
borrowed
My Rating: ★★★★★ Book Links:
Goodreads
–
Amazon(US)
–
Amazon(CA)
-
B&N
-
Kobo
-
Indigo
-
Google Play
-
Audible
Back Cover Blurb:
Young Fitz, the illegitimate son of the noble Prince Chivalry, is ignored by all royalty except the devious King Shrewd, who has had him tutored him in the dark arts of the assassin. He has barely survived his first, soul-shattering mission, and when he returns to the court, he is thrown headfirst into the tumult of royal life.
With the king near death, and Fitz's only ally off on a seemingly hopeless quest, the throne itself is threatened.
Meanwhile, the treacherous Red Ship Raiders have renewed their attacks on the Six Duchies, slaughtering the inhabitants of entire seaside towns. In this time of great peril, it soon becomes clear that the fate of the kingdom may rest in Fitz's hands - and his role in its salvation may require the ultimate sacrifice.
My Review:
Hobb has penned an unforgettable second instalment in this intricately crafted series. World building continues, expanding on the world that we first visited earlier in the series. The descriptions were exquisite, allowing me to visit each and every part of this world. The intrigue kicks up a notch, creating a sense of foreboding and a great deal of suspense.
The characters were also unforgettable. I loved the different personalities and fury types that we met and got to know better. I love how everyone had their part to play, even if it wasn't necessarily revealed right away. I won't comment on the individual characters as that would risk giving away too much of the plot, just know that the cast was fantastic and did the story justice.
This is the type of story that you want to devour from cover to cover but can also put down for a while and come back to it without forgetting a single detail.